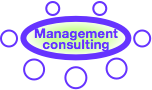 Use the Social Business Management Consulting Widget to inquire about working together in a consulting engagement in which I put together a team to help you meet specific goals. CSRA's key value proposition is using research and strategy to make execution more efficient and effective, so most engagements begin with research and strategy. I gather market data and information and analyze it to recommend action. Then I lead in creating strategy and plans, working with your team. Executing the strategy can have several stages, but I usually structure them as separate engagements.
You can also use this widget to inquire about interim or employment arrangements. More about those in How We Work.
Management Consulting Widget

Representative Management Consulting Engagements

Management consulting engagements enable us to collaborate to guide you in making strategic decisions about your business with the highest confidence. In most cases, they involve robust due diligence and analysis into your situation before exploring and recommending action.

Consulting engagements leverage my consulting and executive management, along with CSRA's tools and methodologies, but they are invariably customized to your situation and needs. Please consider these descriptions as very general.

Ethnographic Research

I source and analyze social media to develop deep and broad understanding of users/customers/employees/stakeholders for product management, business innovation, customer acquisition/retention, employee engagement, and many other business applications.

Social Business Strategy and Execution

Social media operations, like most promotional marketing, produce promotional results at most, so they require extensive resources to produce incremental business benefits. Social business uses a fundamentally different ethos and builds sustainable profit by interacting at a deeper level with primary customers or other stakeholders.

Social business strategy engagements conduct due diligence to prepare for agile execution. Although each engagement is distinct, our aim is starting and building the Trust Business Chain Reaction by showing key stakeholders the firm's commitment to their outcomes, thereby earning durable trust, relationship and profit. Execution often involves sequential projects, and CSRA's methodology calls for mentoring, so your teams build their own competency.

Social Business Team Building

Leading brands are realizing that customer experience and intimacy require more than agency-generated content. They are adopting hybrid models, bringing select social media operations in-house after many years of outsourcing. Although this is a growing trend, what's the optimal process for preparing to develop mission-critical social business and social media competency? What are the stages of team building? How do we determine boundaries between what we do internally and what our agencies do? This seminar outlines case studies, models and good practices.

Social Media Monitoring Platform Selection

"Social media monitoring" is a key part of social business, and most organizations are bewildered by the various approaches they could use to "listen to the ecosystem." No one argues that a key part of social business governance is determining meaningful metrics to measure the impact of interacting in social venues, but how you use metrics to listen and measure is far from obvious. These engagements determine what you need to measure to meet your business goals. We design response processes and trust-based metrics. If you have not contracted with a vendor, these engagements conduct and validate requirements analysis and manage a vendor shootout process to evaluate partners.

Social Business Policy Design

An astounding portion of prominent firms has no social media or social business policy to guide employees' digital social interactions or protect the organization from litigation. Others have social media policies that sabotage employees' and teams' social business efforts. These engagements do social policy the right way, by bringing all parties together and giving each a role: employees, legal, human resources, marketing, operating businesses. They provide the requisite legal protection while empowering employees with realistic guidance, so they can perform better. When sponsored at the enterprise level, we often create a taxonomy of policies to protect the enterprise while devolving authority in business units and functions to share ownership and increase performance.

Social Business Transformation

Social business transformation has many potential drivers. The most astute management teams use social business to test market propositions in stealth during their due diligence in preparation for mergers, acquisitions and divestitures. They study stakeholder interactions to understand the value proposition of the new enterprise configuration.

In other cases, management has seen some promise with social business and wants to herd the cats. Most firms and brands have social media operations within silos that have their own agencies for social media planning and operations. As social business continues to penetrate external, customer interactions as well as internal collaboration, the enterprise can create much more business value by developing and propagating its own good social business practices.

Digital Transformation Strategy

The quest to provide a "new connected customer experience" is puzzling because most organizations are somewhat "digital" already, even though everyone has goals to be more so. Digital transformation engagements are usually rooted in developing impartial understanding of key stakeholders' needs (critical customers, partners, workforce, governments, other divisions) and adoption trends. Once the team grasps the drivers of change, it assesses the readiness of making significant investments in executive talent, big data, analytics, mobile, omni-channel, social business, cloud infrastructure and others. CSRA strategies are built with agile principles throughout to manage risk.

See Case Studies for detailed descriptions of CSRA client engagements.

See Services for the full breadth of CSRA's offerings.