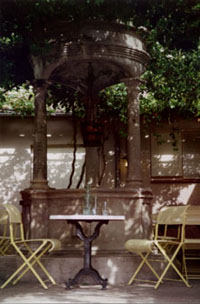 Major developments, since 1998!
This log dates from the site's inception, beginning from its first incarnation (see the first iteration) to the newest content. It's been sporadic, and of course there have been constant tweakings that are not reflected here; these are more major additions, repairs and maintenance.
---
January 2008
Restructuring along key axes: gently leveraging Web 2.0 technologies and content from the Global Human Capital Journal. Amazing how the "online journal" (blog) concept enables content because my content has exploded since September 2006. Seized a window to do a major upgrade:
"Reports" is a major new category of thought leadership in Resources. They bundle my coverage of major conferences and summits that offer in-depth treatments of topics like: social networking/Web 2.0, enterprise 2.0 in investment banking, CEO/CMO topics, CIO topics, the transformation of advertising, etc.
"Advisories" are terse statements about breaking threats and opportunities as well as general guidance for responding to them to make your company more competitive.
Rollyson.net/consulting got a total overhaul and is now much better integrated into rollyson.net and has completely new content. A clear description of my consulting approach and services.
Professional Services Directory now a shell for my del.icio.us tags, and it builds the table on the fly; in effect, I'm syndicating content from myself automatically, very exciting as time is limited and del.icio.us is still hard to look at for most mortals.
New "Emerging Issues" page is likewise fed by del.icio.us on select strategic topics of interest to me; I share some of the most compelling articles I've read on (currently) Web 2.0, investment banking and globalization (emerging markets, India, China)
The Vision directory is gone; folded thought leadership into two main repositories in "Resources": 1) Reports and Advisories and 2) Papers, Articles and annual Wrap-ups.
Prologue 2008 is a brief retrospective that also looks forward.
Extensive admin clean-up of templates and directories; adjusted taxonomy.
September 2006
Major relaunch and modernization:
Finally implemented cascading style sheets, and templated all pages. It was a time investment I'd put off for too long! Really worth it, though. This was actually a training ground for other sites as well.
Reorganized site structure/tree.
Modernized and simplified look/feel.
Added legal and privacy pages.
Added breadcrumb-style subnavigation.
14 January 2006
Housecleaning and refreshing content:
Cleaned up all headers and fixed intermittent link issues on main navbar.
New home page design.
Updated copyright notice for 2006.
17 November 2005
Have embarked on a much-needed recasting of the site, post e-business, which will unfold iteratively. This issue tackles some of the most pressing housekeeping tasks, while I work on restructuring the site and adding significant new content later this year:
2003-2005
Few content changes, only minimum housekeeping (don't look in the corners, ugh! ;-).
31 December 2002
26 December 2001
31 October 2001
19 September 2001
21 July 2001
17 March 2001
21 February 2001
Released eight new case studies/success stories that highlight some of my work during the last decade (Internet time, of course ;-).

Updated CVs.
8 February 2001
12 December 2000
30 October 2000
Too many things to mention specifically, as I relaunched the entire site. Here are the highlights:
8 August 2000
Deployed http://www.rollyson.net, updating all links to reflect tweaks in directory structure (site had been hosted at www.ais.net/rollyson).
Changed email references from "rollyson@ais.net" to "chris@rollyson.net".
---
All links below refer to the first iteration of rollyson.net, as it more clearly reflects how the site looked at the time.
---
7 July 2000
30 March 2000
12 February 2000
Added new editions of e-business strategy white papers.

Tweaked CVs and engagements to reflect recent work.

Removed music file to save space, 1999 holiday greeting card and annual wrap-up remain here.

Removed 1998 card and message to save space.
30 December 1999
Added Resources to Buzz page, including 100s of useful links. Added new messages to home page. 1999 holiday greeting card, annual wrap-up. Reloaded 1998 card and message. Added Vision and Predictions page. Tweaked business card to reflect promotion at PricewaterhouseCoopers.

Tweaked CVs.
15 October 1999
22 December 1998
15 October 1998
1 August 1998
Added success stories and engagements to Engagement Dossier.

Added KM information throughout the site.

Tweaked first page to reflect KM specialization.

Redesigned Buzz page.
17 May 1998
14 May 1998
11 May 1998