7 Social Business Transformation Tools provides digital executives the vital tools of online engagement, from the Social Business Life Cycle and Social Business Strategy Use Cases to the report that ranks social business advisory firms in their ability to help firms transform.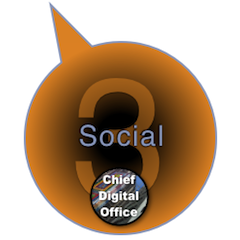 7 Social Business Transformation Tools is Part3 of the CDO Guide to Social Business for Transformation. The tools it describes encapsulate thousands of hours of hands-on experience with strategy and in-the-trenches execution work with global brands, and they explicitly address the ins and outs of people, process and technology. Part3 includes links to tools' full versions, so CDOs can use it as a dashboard.
The Guide to Social Business for Digital Transformation helps Chief Digital Officers to understand and act on rapidly improving stakeholder relationships, productivity and business performance. The Social Business Competency Center has even more resources. The Chief Digital Office has other competency centers in Mobile, Big Data & Analytics and Ecommerce.
#1—The Enterprise Social Business Life Cycle

This simple model shows all phases of the social business adoption life cycle, which is inherently transformational to organizations. Use it to understand change and sequence initiatives to boost efficiency.
Disruptive technologies are like storms that beset organizations whose executives are unaware of disruptions' power to change the status quo. Other leaders are jaded and dismissive, which is adaptive in many cases: entrepreneurs and other investors present to market a dizzying array of disruption candidates, very of which reach significant adoption. Vendors and consultants complicate matters because they often sound the alarm prematurely, influencing their clients to adopt a disruption that ends up fading into insignificance.
The fact remains that overlooking a profoundly disruptive technology can be lethal to organizations that adopt too late—or ruinously expensive (when they adopt with the herd, they pay huge fees for mediocre support). Having almost thirty years working with executives to adopt disruptions, I've found that adoption life cycles are crucial to perceiving, understanding and measuring the process of adoption. The cycle functions as peripheral vision, and understanding the flow is invaluable to organizations because they must coordinate action among legions of stakeholders. The life cycle serves as a reference point for disruptive concepts as well as the sequence of adoption.
Specifically, "adoption" refers to the organization's assessment, planning, trying and integrating disruptive technologies and behaviors. The life cycle functions as a roadmap for the stages. CSRA's Enterprise Social Business Life Cycle has five stages: Feasibility, Strategy, Pilot, Scale and Integrate.
#2—Social Business Strategy Use Cases

These use cases define five common social business situations to which they apply Business Focus, Life Cycle Focus and Social Business Focus. Use cases are valuable because they enable teams to focus on user (stakeholder) outcomes to improve business returns of social initiatives.
In 2013, most organizations are at some stage of adopting social technologies, with most being at an immature social media phase. These five Social Business Strategy Use Cases define social business adoption scenarios and outline how executives can plan social business initiatives to reach their future state. The use cases make extensive use of the Social Business Life Cycle. The use cases are: Upgrade Social Media, Fire Drill, Catch the Leaders, Herd the Cats and Transform the Enterprise.
#3—Social Business Team Building

In 2013, most organizations have internal or external resources practicing social media. Social business, collaborating with stakeholders to produce better outcomes, will rapidly become business critical for most organizations, so they need to develop internal competency. Social Business Team Building is the starting point.
Most organizations use social technologies to promote themselves, their products and their brands ("social media"). Social media is usually run out of marketing and, although practices vary by industry and firm, a large portion of "campaigns" and "operations" are outsourced to agencies. I have argued for years that communicating and collaborating with stakeholders is core to all businesses because it digitaizes interaction. Thrice a chief marketer, I cannot imagine wanting to put "intermediaries" between my firm and my stakeholders who have the biggest impact on my business. But that's what firms are doing.
Therefore, organizations need to develop native (internal) competency in developing and managing productive and authentic relationships online. This is far more difficult than most imagine. Social Business Team Building corresponds to the five use cases and gives a step-by-step approach to building teams in those scenarios.
#4—Guide to Social Media Monitoring

Social media monitoring is a growing cash and staff expense that is pregnant with potential when firms think about it differently. This how-to guide explains how to look past "monitoring," to meaningful and efficient responses that matter.
Monitoring is more important than meets the eye because one sees what one seeks. Founding principles of social business are that the main goal is using digital's lower transaction costs to develop relationships ten times faster and cheaper; therefore monitoring needs to focus on that goal if it is to serve social business.
Most monitoring tools have been built for social media whose DNA is marketing and promotion, so they aren't ideal, you will have to use them for a different purpose than their design anticipated.
Social Media Monitoring: How to Select a Platform focuses on the process of monitoring rather than the tools. "Monitoring" is like anything else: focusing on technology tools gets subpar results. The guide shows teams how to develop teams' response processes, and it works backward to monitoring and tools. You can use it to reevaluate contracts you probably have with SMM vendors and/or agencies.
#5—The Social Network Life Cycle Model

The Social Network Life Cycle Model shows how social business teams increase trust over time, and it measures changes in trust with quantitative metrics. When I released it in 2009, the model was unique, and it's still unusual in 2013 due to its trust focus and quantitative metrics for trust and commitment.
The Social Network Life Cycle Model presents a four-stage roadmap to measure changes in trust quantitatively based on interactions in digital social networks. It is written from a B2B context but applies to B2C as well because people who trust more commit more. Trust is a psychological risk mitigation mechanism because, as animals with big brains, humans have free will. Being able to form realistic expectations of others enables people to collaborate and accomplish more.
The Social Network Life Cycle Model describes four stages of developing relationships: Discovery, Qualification, Engagement and Conversion. It gives step-by-step advice for moving through the stages and measuring progress gives guidance for assessing where the business is and how to move it forward by interacting to increase trust, which leads to business.
#6—The Social Network Roadmap(SM)

I released the Social Network Roadmap in 2008 (Q2), and I've refined it during client work for five years. Its website offers support for using the SNR by yourself or partnering with CSRA in several ways. It also explains the trade-offs of various approaches.
The Social Network Roadmap(SM) is CSRA's services framework and delivery methodology for enterprise social business initiatives. It is grounded in identifying and mitigating numerous risks inherent in social business initiatives, most of which are overlooked. It aims to hasten adoption by avoiding risks that hinder competitors. How many of these social business risks do you know? The Social Network Roadmap (SNR) uses agile techniques throughout, and it has been vetted by seven years of engagement with large brands.
SNR has three versions, and they correspond to social business use cases. All are visible online. SNR Preliminary focuses on education; it is useful for educating teams about social business concepts, relevance to a particular business and tools. SNR Pilot is chiefly used by brands or businesses that want to leverage its risk mitigation to move ahead quickly. SNR Enterprise is often used by Chief Digital Officers, who have an explicit (often) enterprise transformation mission. It assumes pervasive adoption and leverages a degree of central coordination among businesses and brands.
#7—How to Select a Social Business Advisory Firm (report)

Advisory & Services Firm Social Business Adoption quantitatively ranks six types of advisory firms for their ability to advise organizations on using social technologies for transformation: strategy firms, agencies, Big Four, enterprise I.T., analysts and pureplays. I produced executive briefings in two versions to package results to empower firms to develop stronger social business practices and clients to shop better.
In 2013, analysts, consultants and other thought leaders awakened to the fact that social business could be used to transform organizations to boost their vitality. As CSRA has practiced social business as transformation since 2006, and I wanted to measure advisory firms' capabilities, and the reports are the results.
Two critical issues that are only beginning to be addressed by business and government leaders and their advisors are: 1) if social business is about using digital social technologies to communicate and collaborate much faster and cheaper, the market needs advisors who excel at guiding organizations in relating and collaborating, not marketing or promoting; 2) organizations (clients) are built for pre-digital-social communication and collaboration, so to take advantage of social business, they must transform their cultures, processes and structures.
I conclude that the world needs a new kind of advisory firm that can guide organizations in 1) excelling in trust-based and stakeholder-focused social business and 2) transforming themselves using social business.
Access the executive briefings here: Guidance for Clients offers recommendations for firms needing help with social business transformation while Guidance for Firms helps firm executive partners build social business transformation practices.
Insights
In 2013, many organizations are in crisis due to low morale, product/service commoditization and margin pressure. Many of these challenges are rooted in the fact that industrial organization models were build on repetitive tasks, not open collaboration. Markets change so quickly now that legacy organization must transform or  die.
Social technologies enable emergent organization and collaboration, but only after organizational transformation to change culture, tools, incentives, stakeholder relationships and "employment" concepts.
McKinsey's The Social Economy is an excellent work that quantifies the social economy and concludes that most of the value will be realized in collaboration.