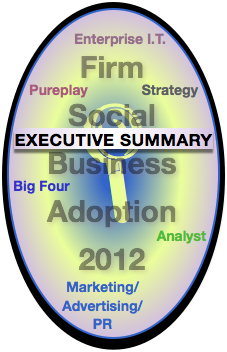 Advisory & Services Firm Social Business Adoption 2012 is a research survey that looks at social business advisory/consulting firms in a new way. Using quantitative methods, I compared consultants according to the needs of clients who want to transform their organizations with social business. The twelve metrics measure firms' performance in business impact, sociality and transformation areas and rank firms within firm categories and overall.
Now prospective clients can compare Strategy firms, Big Four firms, Agencies, Analysts, Enterprise I.T. firms and Pureplays quantitatively. Moreover, consulting firms can use these metrics for guidance in building out their social business practices.
I launched CSRA in 2006, and we have always practiced social business as transformation. Client work in social business transformation enables me to see where the market is going, so this survey considers social business firms from that future state.
[UPDATE 8 Mar] Now available: "Executive Briefing" is even more summarized (14-slides) in two versions: Guidance for Clients and Guidance for Firms. Research survey results will be most useful if you follow the […]