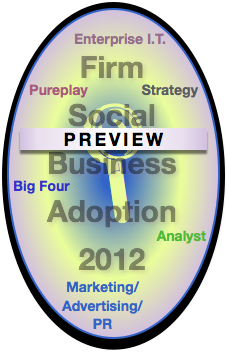 Advisory and Services Firm Social Business Adoption 2012 audits the maturity of management consultancies' and agencies' social business practices. It aims to serve CEOs and CMOs who want to maximize the potential value of social business by evolving their organizations. Similarly, it will be useful to firm and agency executives that want to position themselves as strong players in the growing market for social business strategy.
This research survey may be unique because it focuses its evaluation on firms' ability to advise clients on becoming more social by transforming their organizations. It attempts to factor out "social media promotion" since it is usually driven by marketing, not relationship. In addition, this survey quantitatively measures firms' social business commitment; firms that don't practice social business themselves cannot be credible advisors.
The Advisory and Services Firm Social Business Adoption 2012 microsite has all information pertaining to the research survey.
Research Survey Design
Point of View
I have advised executives and organizations on navigating disruption since 1985. I launched CSRA in 2006, specifically to advise large firms on social business transformation, and all client work has been focused on leading clients in developing trust and deeper relationships with their stakeholders. Using social technologies to transform business performance is a new idea to most executives. Until now, "social media," which uses legacy marketing and public relations as the rationale for social technologies, has defined the market. However, most of social technologies' business potential rests in organization transformation, which includes marketing as a minority piece. Several advisory and services firms are beginning to appreciate the difference between social media and social business, which bodes well for their clients. In 2012, I detected a palpable increase in advisory firms' focus on social business, so I predict growth of their social business practices in 2013.
Organizing Principles
The primary principle is that most of the economic value of social technologies lies in enabling people to relate, collaborate and innovate at an unprecedented level, but knowledge worker organizations need to transform to enable people and ideas to flow more spontaneously. Advisory firms will play a crucial role in guiding organization transformation.
A secondary principle is that all organizations will have to develop core competencies in using social technologies to relate to and collaborate with stakeholders—because social technologies will continue to grow their portion of all interactions. Moreover, building trust through online interactions demands a much higher level understanding and skill with sociality, which few firms understand. This puts the onus on advisors to help their clients develop native skills with "practicing" sociality with digital social technologies, behaviors and business processes. Outsourcing social long-term will impoverish companies' ability to relate and lead to weak relationships.
Third, advisory firms themselves were formed in a different context, so although they have useful core competencies for social business transformation, they will have to evolve to serve clients better.
Advisory and services firms will have to get more "social" to be credible and competent. This survey quantitatively shows firms' strengths and weaknesses.
Definitions and Rationale
"Social media" refers to using peer-to-peer Web 2.0 technologies as new channels for marketing communications. Interaction is secondary to distributing brand-produced content. Social media has shown some of Web 2.0 social platforms' advantages over one-to-many content distribution channels, namely because enthusiastic viewers can share widely. However, the hard "business case" has generally been as ephemeral for social media as it has been for brand marketing.
"Social business" is using Web 2.0 technologies to transform organizations, and its focus is interacting and collaborating with "stakeholders," the people with the most impact on organizations' viability. Since I have been in professional services for over 25 years, I focused CSRA's client work on interaction and collaboration rather than marketing since 2007 because relationship and trust are what drives business. CSRA has served several Fortune 500 B2C brands, but we guide clients to move beyond the marketing paradigm and relate to people instead of marketing to them. Relating drives more business in B2C and B2B.
The relationship approach to "social" has been slow in coming to advisory firms, but I predict that the market overall will adopt strongly once it discovers that relationships are more valuable in driving revenue. The underlying truth is that people like being related to more than being marketed to—in almost any situation. Moreover, Web 2.0 technologies, in the hands or organizations that understand this distinction, are driving the emergence of a completely new economy, the Knowledge Economy. Online interaction and collaboration are creating a new space, the Social Channel.
Advisory firms are lagging in understanding the power of relating and developing its requisite skills, which poses a challenge to early adopter companies. Sociality and relating require higher order competencies than marketing or communicating, so where are organizations to turn for guidance?
Advisory and Services Firm Social Business Adoption 2012 is focused on what clients need: firms that offer strategy and execution services for transforming organizations using social business.
Assessment Method
The research survey design is grounded in a use case that will occur to most executives over the next two to five years:
An executive team whose company has competitive challenges or new market opportunities wants to explore using social technologies to change the rules. They have noted increasing references to social business's potential impact on competitiveness and look for external guidance online. The company has used all types of advisory firms, so it tasks a team member (the user in the use case) to conduct a review of their websites.
This use case is hypothetical because most executives contact people they know rather than conducting an impartial analysis of potential providers, but it enables us to compare the firms most impartially, and virtually all selections of new advisors does involve some review of candidates' Web presences.
Some firms that are rated here may disagree with their scores. For example, I know from personal experience with IBM that the firm has amazing interactivity, blogging, social platform activity, etc. However, in this use case, it did not help IBM's scores much because the user doesn't know that, and I tried to keep a level playing field by strictly adhering to the use case. IBM's other social activities aren't well integrated into its main domain, which was also true for most firms evaluated. The user followed a structured process and did not search the Web for firms' other titles.
Assessment Metrics
The survey uses a model of advisory firms' capabilities that will be required to help their clients transform. Many advisory firms will never address the entire Social Business Life Cycle, but the survey evaluates them against that benchmark because clients need advice along the entire life cycle. Firms in all categories will decide in how much of the life cycle they want to play. Specifically, this study assesses the maturity of their practices as measured by metrics in two channels, Leadership and Practice.
Leadership
Social business is evolving very rapidly, so Leadership assesses firms' commitment to investing in thought leadership and intellectual property that is grounded in strategy, transformation and evolving clients' stakeholder relationships.
Firm posts measures changes in the firm's mentions of social business, strategy, organization and transformation on its own domain.
Momentum analyzes growth in mentions of social business, strategy, organization and transformation, commingled with the firm's name, on the Internet.
Tools measures the firm's investment in intellectual property and processes pertaining to strategy and execution of social business transformation.
Case study ranks firms for their experience with advising organizations in social business, emphasizing organization change and transformation.
Collaboration rates firms' understanding of social business through how they serve people in public—on issues of social business, organization and transformation.
Influence measures how often other people mention the firm's name on the Internet, commingled with the topic of social business-oriented strategy, organization and transformation.
Practice
Practice assesses firms in two ways: the articulation of their capabilities with social business strategy and execution as well as their commitment to "walking the walk" by adopting social technologies in key business processes.
Practice definition ranks firms' description of their social business practices. Is is clearly stated? Does it have a marketing/selling or transformational attitude? Are senior partners actively and visibly involved?
Sociality measures firms' integration of social platforms into their core business processes, and whether they add value with their use of platforms. Are platform presences easily accessible? Do firms interact on platforms and have social business-oriented posts?
Point of view rates the firm's focus on social business for relationship and transformation based on how practice leaders talk about social business and how the firm practices it.
Leader blog measures firms' commitment to the social business ethos of thought leadership and interaction. Are managing partners blogging? Are blogs easily accessible from the main domain?
Interactivity ranks how firm bloggers relate as a function of comments. Do they respond to comments? Do they express themselves professionally while interacting spontaneously and without sanitized firmspeak?
Personability measures the firm's "walking the walk" by analyzing how personal (yet professional) its people express themselves. Firms that enable professionals to speak with their own voices rank higher.
The Advisory and Services Firm Categories
Several types of guidance and services can facilitate organizations' transformation to relating and collaborating. This study evaluates advisory firms that deliver research, strategy, marketing and communications advice and execution services. The study evaluates, rates and ranks these types of firms:
Analysts conduct due diligence on emerging technologies and behaviors and deliver largely through subscriptions, but some have extended into professional services and advice on strategy. Unlike others, they have core competencies in publishing and conferences.
Strategy firms specialize in corporate and business strategy, which includes due diligence, opportunity analysis, competitive analysis and feasibility using proprietary quantitative methods to analyze markets and business process performance. They have explicit business transformation practices.
Marketing/Advertising/PR agencies currently have the biggest piece of the social advisory and execution market. They conduct market analysis and create marketing and brand strategies that increasingly include social media, and many are developing social media divisions for execution. Unlike most advisory firms, Marketing/Advertising/PR (MAP) have extensive experience with execution on behalf of clients (brands).
Big Four firms' advisory practices are entering the social business advisory market by bolting social business onto their enterprise collaboration and marketing practices. They conduct due diligence, create strategy and offer some execution services that are grounded in business process and technology. Their business transformation practices usually stem from technology and business process.
Enterprise I.T. consultancies are professional services arms of I.T. hardware and software vendors, and they often field strategy boutiques that are starting to address social business. Some, such as outsourcers, are not technology vendors themselves but are strongly tied to them. They conduct due diligence, create strategy and offer some execution services, but their DNA is driving demand for hardware and software. Outsourcers, like MAP, have extensive experience with execution on behalf of clients.
Pureplays have been founded specifically to advise organizations on social business, and some are growing into social business transformation. Their services vary widely as a function of their founders' backgrounds. They are small and focused and have far more native skills with social technologies than any of the others.
Research Survey Publishing Schedule
Executive Summary reports will be published serially, for each firm category, beginning January 28. See the Advisory and Services Firm Social Business Adoption 2012 Home Page for the dates.
Expanded Analysis reports and interpretations for individual firms are also available but will not be published publicly. Feel free to contact me to learn more.
Disclosure
I have or have had formal relationships with several firms evaluated, but I adhered strictly to the use case and did not allow my knowledge of some of the firms' sites to affect rankings. I'm an alum of KPMG and PwC, and I am currently and IBM business partner.