Caterpillar CEO Pitches Free Trade to Business Leaders at Executives' Club asks whether the U.S. is at turning point with global economy in the balance—A lack of courage?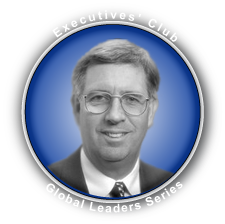 James W. Owens, Chairman and Chief Executive Officer of Caterpillar Inc., beseeched U.S. business and government leaders to find the courage to save free trade. The speaker at the Executives' Club of Chicago's Global Leaders Series, Owens addressed a packed house at the Hilton Chicago on 16 October 2007. His speech was immediately followed by the Club's Technology Conference at which CIOs advised their peers on the emerging role of the CIO in the "networked economy 2.0."
A Ph.D. economist with extensive global management experience, Owens made a very convincing argument that the U.S. and the global economy are at a turning point. It is time for the U.S. to lead by example to assure the continuance of the free trade juggernaut that has produced so much wealth in the world. If it fails, the world stands before the prospect of sharply curtailed trade.
Following a summary of his remarks, I will offer conclusions and analysis of related market developments. Although he limited his remarks to business leadership, I will also argue that the U.S.'s lack of resolve and leadership is multidimensional, notably with respect to the environment. Moreover, economic and social forces are going to confront the definition of the sovereignty of the nation state due to the collective destiny of all nations due to trade and the environment. In other words, Owens' remarks may be far more applicable than he suggested.
Caterpillar as an Example
Caterpillar is a poster child of free trade success that is benefiting tremendously from China's and other emerging economies' demand for heavy equipment with which to build infrastructure. Cat is #1 or #2 in all its markets, and services now comprise 35% of its revenue (logistics, finance). They are growing quickly as a portion of the total.
Cat dealers are a key par of their local presence around the world. The company sees them as partners. They are crucial to Cat's global footprint and strategy to be close to customers. This is good for relationships, and it cushions the company from exchange rate risk.
Following the Asian crisis in 1997-1998, Cat retrenched and increased its footprint significantly. When Asian economies took off again, Cat grew explosively.
Caterpillar's "Vision 2020" program is focused on operational excellence along the lines of Toyota's vaunted Philip and approach. Specifically, Cat is focused on safety, decreased repair frequency and just in time production.
Owens stated emphatically that Cat was a better company due to competition. Competition makes the company stronger.
Emerging Markets' Impact
2004-2006 has been the best global GDP (Gross Domestic Product) growth since (the end of) World War II.
Caterpillar's destiny is obviously linked to emerging markets' demand for its equipment to build roads, buildings and other infrastructure, but the demand for other companies' goods and services are also linked to emerging markets, even if their leaders do not appreciate it yet.
Asia has achieved escape velocity: its growth no longer depends of U.S. and European demand, although they represent large demand. Asian demand is growing fast as a percentage of the total. Asian nations no longer depend on FDI (foreign direct investment) for their growth because there is so much money in Asia itself.
Owens believes that global growth will "probably" be strong for the next five years, although 2008-2009 will be "anemic." If the U.S. achieves a soft landing in 2008, 2009 will accelerate.
The U.S. only represents five percent of the world's population, and most of U.S. GDP is earned outside the country. (He did not say that the population percentage is falling, nor that the non-U.S. percentage of GDP is falling).
The Gauntlet—The U.S. Risks Capitulation at the Crucial Moment
Protectionism is rising to dangerous levels in the U.S. Politicians and most U.S. citizens do not understand how free trade contributes to the strength of the U.S. economy. For more on this, see The Transatlantic Partnership and Its Implications for U.S. and E.U. Economies.
U.S. President Bush is having a very difficult time getting CAFTA (Central American Free Trade Agreement) and free trade agreements with South Korea, and this sends a terrible signal to the world: the U.S. does not want to take any risks, to open its markets or to share its destiny with friendly nations. Colombia and Peru need U.S. support to continue to pursue a free trade agenda and move toward democracy. (This against the backdrop of increasing socialism in Latin America and open hostility of Hugo Chavez).
Owens worries that the U.S. has lost the will to compete, the courage to do the right thing and the confidence to embrace other nations. U.S. congressmen have passed 94 anti-China bills, and their constituents clamor for more. China is not perfect, but they have made tremendous progress, and their progress drives the demand for an increasing portion of U.S. companies. We are at risk of a U.S.-China trade war.
We need to reactivate the DOHA round of trade talks; the U.S. currently collects more (trade) duties from poor countries than from wealthy countries (due to skewed bilateral agreements). That is sending an unfortunate message to the world.
Immigration has always been a cornerstone of the U.S. success model, but we are in danger of dropping the ball at a critical time. "What kind of universities do we want?" Owens asked. Current immigration policies make the U.S. an unattractive place for the world's best and brightest to come and study. For the few who come here to study, we make it virtually impossible for them to stay and work. We should give them green cards when they graduate. (by not doing so, the U.S. is exporting knowledge).
There is no intelligent immigration discussion. Twelve million Mexicans are at risk of being deported because they are here illegally. If the U.S. deported them, the economy would shut down.
The U.S. has the second highest (corporate) tax rate in the OECD. The U.S. taxes all income, no matter where earned, and this keeps jobs outside the U.S.
The looming U.S. Social Security and health care crisis drive up U.S. employee costs, and there is no honest bi-partisan discussion about the problem or a solution. There is demagoguery, no accountability.
From a performance perspective, the U.S. labor market is competitive, but other nations are emerging to challenge. Caterpillar workers in Brazil are top in class, and Chinese workers are incredibly motivated, hungry to succeed and willing to go the extra mile. Owens didn't explicitly say it like this, but the flavor was, "It isn't so much the wage differential but the motivation and determination to succeed" is where U.S. workers are losing ground. He did say, "What happened to our can-do attitude?"
Cat has been in China since the Nixon era, and they formed JVs (joint ventures) in the 1990s. They have rapidly expanded their China operation, and " China is the best startup we've ever had" due to the motivation of the workers, their openness and willingness to learn.
Analysis and Conclusions
Trade
Owens' simple and powerful message really resonated with me. The U.S. is a market leader in many industries, culture and global politics and, as such, is invested in the world the way it is now. The message was well suited to the audience, many of whom lead market leading companies that are the ones to beat in their markets. Owens painted a clear picture of the U.S. as a leader facing the prospect of decline, but such a decline would be voluntary. Basically, it comes down to this: does the U.S. have the will and courage to take the risks of more openness? This is a very real risk: if the U.S. is not competitive, it will be outperformed in an open market (it would be outperformed in closed markets, too, but that would be more difficult to see).
The U.S. has much to lose if trade wars—or lack of continued liberalization—ensue. The problem is, most U.S. citizens do not understand how their destiny is being determined by global trade. U.S. workers and congressmen blame global trade for the disruption being caused by the shift to the Knowledge Economy. In fact, significant disruption to workers and markets will happen whether markets are open or closed.
The U.S. is accustomed to being the challenger and to having the advantage in open markets. U.S. companies and workers are still competitive, according to Owens, but unless they muster the courage to compete, they will lose their leading market positions.
Virtually all product-oriented business face commoditization because their production capacity has outstripped demand in mature markets (i.e. the U.S., Europe, Japan), where populations are declining or flat. Therefore, demand growth of most product and service businesses is linked to emerging markets, where growth will be significant for years.
If U.S. protectionism precipitates in trade wars, the U.S. will lose far more than it will gain: it will risk being frozen out of fast-growing Asian emerging markets, which will turn to China, Japan and India for leadership.
The shift from the Industrial Economy to the Knowledge Economy has displaced industrial workers, who are being confronted with transforming themselves into knowledge workers. An increasing portion of product value is knowledge or information around the product. Innovation will be the value-producing calling card of the Knowledge Economy, and it is knowledge work par excellence.
A miniscule portion of U.S. congressmen have stepped outside the country. They do not understand the U.S.'s global role.
It is a gross simplification with an element of truth that the U.S. should bear in mind that the U.S. was the economic supernova of the 20th century, and it must now share the sky with China, India and other emerging powers. What can the U.S. learn from its experience as an emerging economic colossus and apply that knowledge to China?
The Environment
The U.S. has lost its moral authority to lead on the environment. The U.S. has consumed more fossil fuels and other natural resources than any other country since the 1950s, and the country produces most of the world's greenhouse gases and much of its air pollutants. China is rapidly developing an appetite on a U.S. scale.
For more on China, the U.S. and the environment, see my coverage of the Economist/WBEZ debate, Will China's Rise Lead to an Environmental Catastrophe?
U.S. citizens have lost touch with reality, and European consumption is also high. Their consumption levels were predicated on the rest of the world consuming little, but the global consumption picture is rapidly changing. The other side of such consumption is pollution and damage to the environment. The U.S. is the world's most profligate polluter according to almost any standard.
As I have written for years, China's growth gives leading nations an opportunity to transform their roles from adversaries to collaborators. China's growth and the growing scarcities of natural resources will force consumptive countries to become more adversarial or collaborative. The world is becoming smaller, resources are finite, and all people increasingly share a collective future. Our only choice is how we deal with that reality. More on this here.
The U.S. can reassume moral authority by taking the lead on adopting stringent environmental steps and sharing technology and approaches with China to alleviate its catastrophic environmental problems. No major resource consuming country can "make its own way" anymore—the earth is too small.
Mankind will be forced to approach its stewardship of the earth as a collaborative activity, and free market ideas can help. One of the most fruitful areas of collaboration will be crossing economics with environmental science. For example, many citizens of rich countries are angry and frustrated at the deforestation of the Amazon and in many parts of Asia. They correctly understand that this risks impoverishing the land and destroying huge carbon processing factories. But they have no moral authority to determine other countries' affairs because they are wealthy and consume a huge portion of the earth's resources and contribute to its carbon pollution. Why not make it economically attractive for nations with lush forests to keep them? As inhabitants of the earth who love fossil fuels, we depend on carbon processing factories, so why not pay for them and issue lucrative carbon payments to forested countries for their carbon processing services?