Social Business Models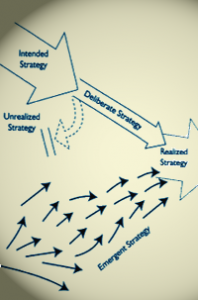 Social business models are all built on the Social Channel of Value, which is currently usurping "value" away from product features. Sociology and anthropology studies consistently show that humans' primary survival strategy is living in groups. Sociality is hard-coded into our DNA. We prize social experiences about almost anything else. The digitization of sociality is utterly transformational for us because it enables us to socialize far more.
Service As Marketing (SvcMktg)
Old-style business runs Customer Service as a cost center whose operations it tries to minimize. Meanwhile, Marketing spends millions on TV models to rave about the company's products. Service As Marketing (SAM) redefines both functions and makes them relevant in the Social Channel. Now, solving people's problems in public digital social venues holds the key to displaying your products' usefulness and your confidence and dedication to customers—to prospective customers. Transparent service is the best marketing, and when you do this right, customers help other customers solve problems.
First, the company creates a public online support community in which it encourages all conversations, especially thorny problems, but suppresses trolls in order to build a trusted space. It encourages open conversation and puts people first. When customers see its commitment, they will join in and support each other, too. Second, the company uses a tagging system to mark very specific topics in order to help customers and prospects to locate specific problems and solutions. It uses RSS to republish these conversations on websites because prospective customers love seeing the company solve product problems they fear they might have and customers being taken care of. It has higher credibility than any marketing.
Digital Events (Digivents)
By 2013, most advanced firms use "social media" to promote their IRL physical events, but Digital Events pushes "virtual/physical" to a completely different level. We change the emphasis away physical events, which are expensive and produce low returns. Instead, physical events become the platform for digital sharing and engagement, focused on client/customer outcomes. By using video to knit together onsite and online prospects, we dramatically increase ROI because planned and spontaneous interactions show our relevance to a much larger audience—forever.
Key activities are: 1) use the physical event as an excuse to interact online, where our conversations are permanent; 2) interview key stakeholders at the event and share their videos online, which digitizes the physical event, significantly increasing ROI; 3) focus on the online conversation, which becomes a magnet for other prospects, forever. Here's a case study [video] [presentation].
Social Product Development (SocProdDev)
Product focused firms increasingly engage users/customers/clients to innovate on product ideas because they get great customer-focused ideas, and they spin up the social flywheel. The type of product drives the context, but the firm facilitates conversations about user outcomes while the customer crowd innovates.
Socially-empowered mass customization is used by product focused firms that want to engage users (erstwhile customers) to have fun and innovate on product ideas. It becomes a business model when the firm uses as at the principal means to develop and launch new products. The firm experts add tremendous value, so no one fires their R&D team. When they learn how to interact with the crowd appropriately, the firm's ROI on R&D increases significantly. Note that the crowd-powered innovation could be in any part of conceptualization through distribution/delivery; by no means is it restricted to "creating products."
Professional Amateur (ProAm)
ProAm has professionals and amateurs working together, and it's an excellent example of understanding core competency as the basis for collaboration. Amateurs supply passion, out-of-the-box ideas and time while professionals magnify their expertise by collaborating with amateurs. Remember, everyone is an amateur of several things and an expert in a couple things, and your enterprise can unlock the value by inviting amateurs to contribute. Quality is high and cost is low. The Pro-Am model will be prominent in continuous innovation. Read this NASA example.
Community Company (CommCo)
CommCo is CSRA's term for "the Threadless model." Here, the company serves as an enabler for its online community, whose members design products and decide which products are made into physical goods (if applicable). I've long predicted that CommCo would become widespread for consumer products in general. I'm talking cosmetics, mustard, beer, apparel, bicycles, tech gadgets, cars. By giving customers a role in designing products or services, you give them a chance to give of themselves, which increases engagement tremendously, for participants and their families, friends and digital social networks.  Profits are sharp because the community's friends are ready buyers, and you have the opportunity to make to order, or at least gauge demand better.
Remember, even if only nine participants out of 100 contribute (the average), the others will participate vicariously. Their engagement will increase because they know they could create if they wanted to. Several case studies here. For one, HGTV created a multimillion dollar business at ultra low cost by using CommCo to pilot the concept.
New Business Alumni
Knowledge Economy leaders believe in and nurture relationships with their people before, during and after "employment" with the firm. By actively mentoring employees in creating rich collaborative connections in firm and non-firm digital social networks, firms empower employees to maintain relationships with prospective employees and alumni, who are usually affiliated with firms who need their expertise, products and services. More information here.
Gaming & Gamification
The future of work is gaming: use small steps to introduce elements of play and competition into internal or external work processes. Gaming and virtual worlds are still on the ascent, and their application is virtually limitless. Executives need to be on Foursquare, if for no other reason than to understand how to use location and gaming to motivate groups of people and increase their excitement, satisfaction and activity. The gaming element is widely transferable to social initiatives. Manor Labs case study also illustrates this. Virtual worlds have ironclad case studies for certain use cases, too. IBM, for example, saves millions per year on collaboration costs by holding events in virtual worlds. In another case, Weopia's CEO, Dave Wilkie, told me at #snc2011 that their clients have doubled their success rates by having in-world "pre-dates" because in-world interaction can suggest body language, thereby providing some "gut feel" about a person. This corroborates IBM's findings when holding conferences in virtual worlds, which give participants a real feeling of "being there" even though they're at their desks, sans flights, hotels and ground transportation. Look at your organization. What if it were true? It could be transformational and have a major impact on your bottom line.
CSRA's client work is focused on guiding firms', brands' and businesses' adoption of social business models.