Caterpillar CEO Pitches Free Trade to Business Leaders at Executives' Club asks whether the U.S. is at turning point with global economy in the balance—A lack of courage?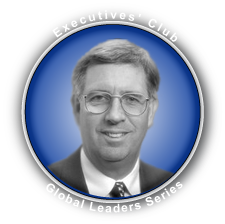 James W. Owens, Chairman and Chief Executive Officer of Caterpillar Inc., beseeched U.S. business and government leaders to find the courage to save free trade. The speaker at the Executives' Club of Chicago's Global Leaders Series, Owens addressed a packed house at the Hilton Chicago on 16 October 2007. His speech was immediately followed by the Club's Technology Conference at which CIOs advised their peers on the emerging role of the CIO in the "networked economy 2.0."
A Ph.D. economist with extensive global management experience, Owens made a very convincing argument that the U.S. and the global economy are at a turning point. It is time for the U.S. to lead by example to assure the continuance of the free trade juggernaut that has produced so much wealth in the world. If it fails, the world stands before the prospect of sharply curtailed trade.
Following […]