Rebooting Kraft—CEO Outlines Growth Strategy clearly shows the innovation imperative: A Play in Two Acts, Starring the Consumer.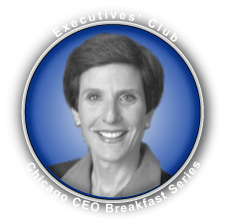 Irene B. Rosenfeld, Chairman & Chief Executive Officer of Kraft Foods, outlined her vision for relaunching Kraft at the Executives' Club of Chicago's Chicago CEO Breakfast on May 30, 2007 at the Mid-America Club. She was enthusiastic about the company's second lease on life: having spun off of Altria this spring, the company is newly independent, and she was eager to share her plan to drive growth by addressing the "eye of the consumer."
Kraft Foods is the second largest food company in the world and the largest in North America. It has seven brands that produce revenue of over $1 billion and fifty that bring in over $100 million each. Central to her strategy is leveraging Kraft's formidable brand portfolio and other economies of scale. Rosenfeld "came home to Kraft" about a year ago, having had highly visible leadership roles at the company in the past and the top job at Frito-Lay immediately prior.
From our perspective, Kraft is exhibiting post-Industrial Economy malaise, which afflicts product-focused companies that are trapped in legacy production and distribution paradigms. The classic symptom is chronic product commoditization and lackluster growth. However, Kraft is doing the right thing by focusing on innovation. After our summary of Rosenfeld's remarks, we will discuss the CPG predicament and offer some ideas for transitioning to the Knowledge Economy through customer-led innovation.
2007 Strategy: Rewiring Kraft for Growth
Like many other consumer packaged goods (CPG) food companies, Kraft has been buffeted by the Knowledge Economy's crosswinds, namely the splintering of mass audiences in favor of niches and long tails. In food products, as well as in other "middle market" offerings, the market is bifurcating: consumers tend to shop low price in many categories while treating themselves to select high priced items. Consequently, companies in the middle are struggling—with what some term "the death of the middle" syndrome. This is also reflected by the consistent underperformance of department stores in the face of strong showings by discounters and luxury retailers.
"We've been forgotten by consumers, and many of our brands are perceived as boring. We will comtemporize our brands by making investments in quality. By making truly delicious products and supporting them with marketing investments to communicate the value, we will once again become a relevant part of consumers' daily lives." — Irene B. Rosenfeld
Kraft intends to accomplish this by pursuing these goals, the first two of which she discussed in some detail:
Reframe categories to increase relevance
Leverage scale to exploit sales ability
Shift emphasis from cost containment to innovation and growth
Continue to improve efficiency without impacting quality
Reframe Categories
The company's strategists are focused on four "axes of value," the ensemble of which forms Kraft's "Growth Diamond": consumer experience, health and wellness, convenience and simplification. Kraft product development and brand management teams try to enhance products according to all four points of the diamond. Foods should tend toward health, convenience and simplicity, and they should provide superlative consumer experience. However, product design seems to focus on one or two of the points, which was reflected on Rosenfeld's categorization of the revenue Kraft earns from its brands:
$8 billion from health/wellness,
$7 billion from quick meals (convenience, simplicity),
$7 billion from snacks (simplicity, convenience),
$1 billion from premium brands. Of the latter, Rosenfeld specifically mentioned Starbucks, California Pizza Kitchen and Tassimo, on-demand premium coffee. (Kraft manages Starbucks' and CPK's retail businesses, and it produces more revenue than CPK's restaurant chain.)
Kraft is very focused on consumer trends. For example, in North America, the 50+ age population is growing at three times the rate of the base population. Kraft can address these shifts with product and packaging changes. For example:
Kraft has added fruit pieces to Jell-O and has introduced several fiber-rich and probiotic foods such as LiveActive.
It has updated such staples as Macaroni & Cheese as Kraft Bistro Deluxe meals that will appeal to adults.
Kraft Fresh Creations are ready-made salads that may contain fresh lettuce, meats, cheeses and salad dressings. In effect, they bundle several Kraft products together.
Cakesters are individually wrapped soft cookies. They are an example of reinventing categories like snack cookies to broaden the frame of reference and increase relevance.
Oscar Mayer is broadening its offerings with shaved meats. Oscar Mayer Deli Creations are sandwiches that can be microwaved.
The South Beach Diet brand caters to active lifestyles.
DiGiorno Ultimate Pizza is designed to rival local pizzeria fare, not frozen pizza. It is also notable because it went from concept to market introduction in fewer than 100 days. Speed will be a hallmark of the new Kraft, as responsiveness is key to competitive advantage.
Here is an official news release that positions the portfolio.
Exploit Global Selling Capability
Philip Morris acquired Nabisco in 2000 and combined it with Kraft Foods. With the acquisition, Kraft began changing its selling approach. Kraft representatives had traditionally called on grocery stores once in several weeks, while Nabisco had had a direct sales model in which representatives stocked the shelves and were in the stores constantly. Consequently, Nabisco products consistently had excellent shelf space, while Kraft products were disadvantaged. Nabisco's approach was closer to the vendor managed inventory model that is increasingly preferred by retailers, notably Wal-Mart. Today, Kraft is adopting this system more widely: with its immense brand portfolio, Kraft attains greater economies of scale with the direct sales approach. Kraft has implemented the direct sales model in 30% of North America, and Rosenfeld promised that it would be 100% soon.
Developing markets represent special challenges because a large portion of food products is bought in stalls or in very small stores. Kraft needs to learn how to sell in these environments. For example, Russia and Ukraine saw 50% revenue growth last year, and Mexico and Brazil also saw strong growth.
Concluding Remarks
Rosenfeld is optimistic but cautions that there will be no overnight fix for Kraft. Since 2002, operating income has decreased from $6 billion in 2002 to $4.5 billion last year. 2007 will be "an investment year," and shareholders will only begin to see the impact in 2008, when the company will make its next tranche of investments. Rosenfeld expects to see 4% growth within the next few years.
It is difficult to make "healthy" foods that consumers want. All food companies have tried to reduce salt, fat and sugar, but consumers usually do not like the taste, and the products disappoint. Kraft is adding fruits and vegetables to its packaged foods.
In addition, Kraft strives to make its products more accessible through vending machines and selling at airports.
Kraft is trying to address the C2C (consumer to consumer) conversations through virtual shopping tours and participating in online forums. One example is the company's space in Phil's Supermarket in Second Life, which debuted in conjunction with the Food Marketing Institute's convention in Chicago, May 6-8, 2007 in Chicago. More information on the launch.
Rosenfeld's message to Kraft's 90,000 global employees is, "It's your ship." She sees her job to share her passion for the company, to understand what employees need and to give it to them. The company is also focused on hiring more Hispanic and Asian employees, as these demographics are growing quickly in North America. The company still realizes 75% of its total revenue from North America.
Kraft derives $4 billion in revenue from emerging markets. It faces significant challenges in Asia because its core products, meat and cheese, are not part of the traditional Asian diet. Biscuits are among its best-selling products right now. They have a beachhead.
Long-Term Solutions: Customer-Led Innovation
Success Story
One of Kraft's brightest successes in recent years has been Nabisco's 100 Calorie Packs, which incorporate portion control into many of the company's products. But 100 Calorie Packs were not dreamed up by researchers or dieticians; the idea surfaced during one of the company's consumer community pilots in which Kraft engaged several hundred consumers in online conversations about their experience with food. Kraft learned that consumers did not want to think about "diet foods," but they were interested in portion control:
"We immediately saw the benefit of having consumers talking with us and with each other around the clock. It enabled us to stay in almost constant touch with our consumers. While Kraft certainly benefits from getting their reactions to new product ideas and the like, the true benefit is developing deeper relationships and the dialogs that result. Our consumers were no longer demographic statistics—they became real people with strong opinions, deep feelings and daily challenges that they were willing to share with us. Knowing our consumers at this level is invaluable in helping us deliver the best possible products and programs to meet their needs." — Gretchen Waitley, senior consumer insight manager|manager of The Kraft Consumer Channel. (For more information, read the case study.)
It is precisely this type of initiative that holds the most promise for CPG companies: they can collaborate with consumers to create value through innovation. However, before CPG companies can fully benefit from co-innovation, they must evolve their legacy structures.
The Innovation Challenge
Large CPG companies grew during the Industrial Economy, which was marked by material scarcity and the encapsulation of human work within products (for example, packaged, prepared foods replace the home cook's work by substituting mechanized factory work for it). People around the world delighted in the convenience of packaged foods which arguably enabled more women to work by reducing the need for home cooking time. In the Knowledge Economy, however, customer attention is what is scarce, not material things. Rich economies enjoy unprecedented wealth of material things, and convenience is simply expected; it rarely offers sustainable differentiation. In addition, Web 2.0 communications between consumers mean that product-centric differentiation is consumed quickly.
Consumers communicate their collective and individual experiences with products and services, competitors copy features very quickly, and chronic pervasive commoditization is the result. Novelty "fatigues" fast.
Industrial Economy companies, with few exceptions, have been lackluster innovators because their core competencies revolved around efficiency of operations, the hallmark of the industrial age. Innovation by default involves some kind of discontinuous change, the anathema of ultra-efficient producers.
Knowledge Economy CPG
As an increasing portion of consumers interact with Web 2.0 tools, CPG companies can engage them in conversations about their experience, not necessarily about products and services. Often, the most useful types of conversations take place among consumers, not between consumers and companies, because consumers are customer experience-focused. In many product categories, Kraft could combine its world-class prowess in food science, distribution and marketing with consumer insights to produce consumer-designed products. The value migrates to customer participation and co-ownership, which is far more durable than product features, which are easily duplicated by competitors.
Consider Samuel Adams' Longshot contest: consumers submit their recipes, which are brewed and judged. Winners have their beers brewed and distributed nationally. In effect, this creates a vibrant community around the beer, the contest and that year's offerings. It generates extensive publicity, it educates consumers about the nuances of how beer is made, and it grows the population of consumers that appreciate quality (and higher prices). In a controlled way, it puts the means of production and distribution at the disposal of consumers.
CPG companies must evolve their structures to significantly increase their adaptiveness. One interesting viewpoint is the "Food Factory of the Future." Proponents argue that food will follow in the steel industry's footsteps by replacing huge monolithic plants with smaller, more flexible factories located by customers. These plants will deliver profitability with much smaller runs, and their locations will reduce distribution costs as well. Proximity would undoubtedly lead to different products and features due to the shorter time between production and sale (short shelf life). By evolving to such a structure, CPG companies could align themselves more easily with customer-led innovation. Currently, their monolithic structures are designed for long shelf life and high volume, which causes the companies to keep production running even if demand changes due to high opportunity cost of not producing anything. They can cause companies to be unaligned with consumer wants.
Having consumers actively engaged in co-developing products could add to CPG competitiveness in several ways:
Companies can better understand customer experience when consumers converse among themselves. When companies direct the conversation, they unwittingly elicit a product-centric discussion. Industrial Economy DNA is efficiency, line extensions and amortizing past investments, not customer experience.
Consumers become emotionally invested in the offering that they help launch. C2C marketing and promotion is often the result.
For Web 2.0-enabled consumers, an increasing portion of customer experience will be collaborating with companies to plan, develop and launch offerings. It's not only important that the beer tastes good: it's the fact that someone like me can create a beer that millions of other consumers enjoy. The exhilaration of participation will be important in many product categories.
Analysis and Conclusions
Innovation
Kraft's growth strategy is founded on solid principles, namely focusing on the consumer and leveraging Kraft's selling ability and economies of scale.
However, CPG companies have consistently had difficulties with true innovation. For example, Kraft's most recent "organic growth" hit brand was DiGiorno, which the company launched about ten years ago.
The problem with traditional "product innovation" is that companies usually ask the wrong questions. Industrial Economy companies are wired to make products, so they ask consumers about product concepts and desired features. Consumers are experience-focused, and although products and services can play a powerful role in creating experience, they are the means to an end. Consumers try to imagine what kinds of products would help them, but the communication most often fails, especially when the conversation is consumer to company.
Companies can change this dynamic by supplementing traditional discovery processes with participation in consumer conversations, which are about experience. Companies that focus on experience and create products that facilitate desired experiences will succeed much more often.
One way to look at Web 2.0 is that individuals now hold the means of production and distribution for written, recorded, video and graphical content. This is unleashing extensive creativity and experimentation which will not stop at digital content. Consumers will be highly motivated to help companies create pasta sauces, nail polish and many other products. Threadless is an apparel company whose customers design and select its products.
Renovation
But customer-driven innovation is only half of the equation. To produce sustainable, breakaway results, CPGs need to begin building new infrastructures to enable them to profit from smaller runs and shorter product life cycles. As they are currently structured, catering to consumer whims is a win-lose proposition unless the product becomes high volume. They are out of synch with splintering demographics and shortening life cycles.
Although Rosenfeld did not have the time to address Kraft's global strategy, it bodes well for the company that she is focused on it. Kraft has extensive room to grow, as 75% of its revenues currently come from North America.
One of the best ways to enter emerging markets is to engage customers in online forums. Here again, the company must throw itself deeply into customer experience. Looking for the easy answers that amortize existing investments will succeed less often than customer focus without compromise.
Kraft's culture and decentralized structure can make it possible to evolve a new infrastructure, brand by brand. In addition, the company can regard its growing experience in emerging markets as an opportunity to experiment with new ways of production and distribution. It could import new methods to North America and Europe.