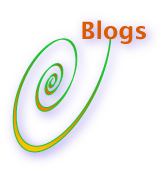 Everything You Wanted to Know about Web 2.0: Blogs concisely explains blogs' value proposition for businesses and executives.
Probably the most pervasive Web 2.0 tool out there is the weblog or "blog." Blogs have a personal element to them and reflect the personal element of Web 2.0, which is at root about P2P (person to person) communication and connections. Blogs are a powerful way to share what things are important to you.. and to your stakeholders, whether they are boards of directors, prospective employers, partners or prospective employees.
As you can see from the Google Trends profile below right, references to "blog" have steadily grown since 2004, but many executives are unfamiliar with what blogs are exactly, how they work and what they're good for. The EGLI Guides Series will briefly define blogs from a business and marketing context, explain how you can use them and share a few enterprise blog vendors.

Blog Overview
There are many ways you can think about blogs and appreciate what they can do for you or your company. At the most fundamental level, think of a blog as a word processing document that is published online: you can write articles and reports, and you can insert pictures, video, audio and other content by clicking a button. Blogs have templates, too. Blogs have very easy to use content creation tools.
However, it is the social element that is blogs' real differentiator. The content that bloggers create is on the Web by default. Blogs also feature very simple Web 2.0 functionality that makes it exceedingly easy for authors and readers to share content: social bookmarking enables the author to mark a "post" (article) with various tags. For example, I could tag this post with "Guide," "Tools," "Blog," Web 2.0," "Software" or "Disruption." Tags are completely independent of each other and can be used in any combination. In addition, most blog software prompts the writer to file posts under a category; for example, this post is under the "Guides/Tools" category. What really knocks it out of the park is that blog software publishes tags and categories as separate RSS feeds.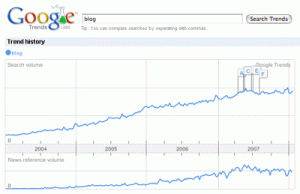 RSS (really simple syndication, more on it in another post) means that readers can subscribe to an entire blog or only to a category or a tag of a blog. Writers and readers can slice and dice content very finely. Another way to define blogs is ultra easy-to-use content management solutions.
Finally, blogs encourage conversation because "comments" enable readers to contribute their thoughts, thereby adding to the value of the post. In a sense, the author of the post starts a conversation, which readers continue. Blogs enable authors to control how people can contribute.
Blogs began as Web "logs" that were written by Web 2.0 pioneers to chronicle interesting tidbits they found around the Web, and many blogs still feature links along with comments. In a sense, they resemble "annotated bibliographies."
Summary
Features

Blog software makes creating Web pages even easier than desktop software
Main idea is "Web logging" (reporting, sharing) ideas with a wide audience

Any number of authors can contribute, but blogs usually have one to five
Authors contribute while readers comment/add to content; no collective editing

Multimedia-ready: most blogs are text-centric, but adding pictures is as easy as adding clip art; adding videos and podcasts is just as easy
RSS built in: ultra-efficient, granular system lets people subscribe to updates

Prevalent uses:

Project status reports enable users to page in for real-time updates
Thought leadership and expert "ideas you can use"
Chief executive communications with direct reports
Discovery and comment on information, projects, competitors' initiatives

Vendor examples: Typepad, WordPress, Movable Type
Business Applications
Blogs have myriad business uses. Product managers can use them to communicate with customers, project managers can use them to report, in real time, progress on their projects, instead of using a word processor on their machines. In fact, it is increasingly popular to write books by publishing the work on a blog and ploughing the conversations into the manuscript that morphs into the printed book. The author can gain invaluable feedback on key ideas and anticipate how people will react. Here are particularly good projects to begin blogs:
You want to promote your knowledge and capabilities. Already, executive recruiters and boards of directors look at blogs as much as or more than resumes to evaluate candidates for high profile positions. Blogs offer executives an excellent venue to discuss issues on which they want to focus in their next initiative or role. Blogs are formidable for reaching out to clients and prospects.
Diverse and cross boundary—you need to communicate with a dispersed, disparate group.
Geographically dispersed—asynchronous communication is very interesting because it enables team members to communicate when communication is the lowest cost to them. Different time zones, continents, etc.
Large heterogeneous group—you want to share ideas or promote yourself or company to a large group of people. Blogs scale beautifully.
Comparing Blogs and Wikis
Many people confuse wikis and blogs because they seem quite similar if one hasn't worked with them. However, they actually have quite different purposes:
| | | |
| --- | --- | --- |
| | Wiki | Blog |
| Main idea | Collective authoring | Authoring by few that is commented on by many |
| Authors | Infinitely many | Small group, usually 1-6 |
| Emphasis | The document, deliverable | The author and discussion |
| Organizing principle | Asynchronous work | Asynchronous communication |
| Other features | RSS, tagging, multimedia, security, rollback | RSS, tagging, multimedia, security, limited rollback |
Barriers to Adoption
Like other things Web 2.0, blogging has strong B2C associations for most executives. There is nothing inherently B2C about blogging.
Fear of disclosure and not understanding the risks
Not understanding the value proposition (the reward)
Perception that blogging takes too much time
ROI pattern in public-facing, revenue-producing initiatives often entails sunk costs (upfront investment)
Being distracted by the in-your-face, take-on-the-establishment associations around blogging
Stakeholders all have different adoption patterns; getting people on the same page
Not leveraging the distinct culture around Web 2.0 to make blogging more effective, efficient, and practical
Learning More
If you are interested in learning more about blog best practices, or how to use blogs to build the awareness of your expertise or that of your team or group, I'd be glad to discuss with you to see whether blogs might make sense for what you're trying to accomplish. Since blogs are often very public (anyone can set up a private blog behind a firewall), and they are forever, bloggers need to think through the persona they want to create online, which includes vocabulary, point of view, etc. I help companies to plan and execute enterprise blogging and communications programs, especially when they are part of a transformation initiative.
*But were afraid to ask ,^)