Advice from three successful CIOs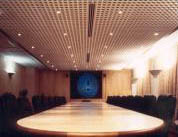 In the past 15 years, "enterprise IT" has been transformed from an accounting support function to the driver-enabler for innovation and value creation. By no means has this been a smooth transformation, as businesses in all industries are besieged by globalization, new competitors and rampant commoditization. At many companies, executives around the boardroom table have had mixed feelings about IT in the face of huge expenditures and uncertain ROIs.
At the Executives' Club of Chicago High Technology Conference last week, Michael S. Carlin of Hospira, Richard Shellito of State Farm Insurance and Randy G. Burdick of OfficeMax shared their advice on keeping IT relevant in the boardroom. After their prepared remarks, Winifred A. Gillen of Capgemini moderated the panel during a Q&A session.
Earn your seat—continually
All three CIOs implied that the boardroom was a very efficient place. They emphasized that CIOs can't ask for permission to be or to remain there; they have to lead initiatives of consequence and strategic import. Overall, this means having a deep business understanding of IT's potential and limitations. All three agreed that IT had a unique role as a change agent, but CIOs must appreciate the role, embrace it and communicate its impact in business terms—all the time.
CIOs can't afford to get offended when their colleagues see IT as a cost center. All three CIOs stated that demystifying and explaining the value of technology was an opportunity to add value. Also, just like other CxO colleagues, CIOs have to continually earn their place at the table through effective execution.
Another unique CIO opportunity is introducing innovation, but be careful. It has to lead to business innovation by significantly changing the business process. You don't need frequent successes, just consistent wins. This is one way to constantly demonstrate that IT is not a cost center, it drives innovation and value.
CIOs know better than anybody, they don't have much time to hesitate; they need decisive results. That means making the tough calls like discontinuing projects that are off-base or retiring IT team members that don't understand the mission or the direction, especially those who don't learn from mistakes.
Mike Carlin pointed out the importance of developing a common understanding of a problem, and CIOs must continually work at it because they're on the firing line of implementation a key part of the solution. IT is a change agent, but the CIO must earnestly seek various perspectives on the problem and not assume understanding. Just as important, the CIO needs to explain IT's capabilities and limitations to his/her peers. He implied that it's a constant education opportunity. Another key point Mi de made was that the CIO had to fully appreciate the business point of view. That means adding value by killing techie projects that don't have clear business value.
Mike offered a particularly valuable lesson in being on the hot seat. When Hospira spun off from Abbott Laboratories in 2004, Mike was chosen to lead the IT transition. As mandated by the spin-off agreement, Hospira had two years to complete the separation from Abbott, and it was marked by a global SAP implementation that involved 18 countries and 70 distribution centers. They BPOed (business process outsourcing) distribution, accounts receivable and customer service. Due to the visibility, Hospira's board, including Abbot's CIO and CFO, had weekly marathon meetings that in which Mike was on the hot seat. He saw it as a tremendous opportunity to rise to the occasion, to add value in a very visible way. He was able to understand the complexity of what they were doing and to explain to the board in business terms.
Dick Shellito has led widespread change in State Farm's approach to IT. When he took on the CIO role six years ago, IT operations and organization were far too complex, to the point of being barely manageable. They had 1,400 IT projects and barely escaped a total ITO (IT outsourcing). Needless to say, the business did not understand what IT was doing or what value it was adding, so they worked hard to provide better focus and decrease work complexity. Dick got his place at the table through this mission, and kept it by meeting business colleagues on their own terms. He also couched many of the remarks in a transformation theme. He strongly felt that CIOs should avoid situations in which they are leading widespread enterprise transformation: although IT is integral to virtually every part of the enterprise, having IT lead transformation is a recipe for failure because it implies that IT and business are separate. Transformation is a multidisciplinary proposition.
Prior to undertaking transformation, CIOs need to have a clear understanding of the vision and strategy. They need a common understanding of the current state.. as well as the proposed future state. Transformation differs from "ordinary change" because it is much more ambitious, and IT is clearly on the critical path. IT has to collaborate with various parts of the business; it can add exceptional value because it touches every part of the enterprise and has a valuable perspective—when the CIO takes the time and trouble to really communicate with his/her peers. He recently concluded a major road trip to talk with several IT thought leaders and concludes that enterprises are facing another period of hyper-fast change; in other words, CIOs can't afford to wait to prepare their enterprises to the innovation wave.
Randy Burdick was hired as part of a new management team at OfficeMax to breathe new life into a poorly executed merger between OfficeMax, a retail office products company, and Boise Cascade, a paper company with a small B2B office supply division. His vision for CIOs is that they have a unique opportunity to add value because they have cross-functional visibility into every part of the enterprise. They have their hands on the pulse of the enterprise. CIOs should regularly put themselves in the position of a customer to understand the business. CIOs also have the opportunity to be change agents, but they way that they approach the role obviously depends on the company, culture and situation. Randy is a significant technologist himself, having been an engineer in semiconductors, and he also stressed that the CIO has to have his/her head thoroughly in the business. He regularly spends 20% of his time on business strategy.
Analysis and Conclusions
CIOs innately have a firmer grasp of technology-driven innovation and transformation than most corporate executives because the components of IT change not infrequently propose discontinuous change. Technology often enables transformation, and the CIO's core role is optimizing the enterprise's investment in this ensemble of technology. Therefore, CIOs inherently understand change and transformation itself. They can bring this talent into the boardroom, but their effectiveness will be governed by how they make transformation relevant.
CIOs who are excellent listeners and collaborators will compound their value as stewards of change and opportunity. All speakers continually stressed the importance of forging relationships with "the business" so that they could understand the business and communicate IT's capabilities and limitations. Increasing two-way communication is arguably the CIO's most important role because other leaders need to understand enough about IT's capabilities to inform their own decision making. CIOs who communicate their expertise and openness will be consulted more often by their colleagues.
Many CIOs become the go-to executives for sourcing and outsourcing, and they can be very effective in guiding the enterprise's outsourcing strategy. IT has become decentralized, loosely coupled and "collaborative" in recent years through service-oriented architecture and standards-based technologies, and the enterprise's structure is evolving to this technology-enabled network structure. This is an emerging area in which CIOs may have special talents to contribute, and it is exceptionally strategic.
CIOs who understand the 21st Century Shift to the Knowledge Economy can add more value because their unique understanding of transformation is urgently needed. The global economy is currently undergoing transformation from the Industrial Economy, which was driven by economies of scale, broad customer demographics and relatively long product life cycles, to the Knowledge Economy, in which products and services are underlying goods, and customer experience itself is the focus for value creation. Enterprises will create knowledge to understand customers and create relationships with them, and the underlying input to knowledge is pervasive information. No one can appreciate this development better than the CIO.
The CIO's value will increase when s/he develops diverse relationships—within and without the enterprise—which will add to his/her perspective. In today's pervasively networked environment, working with external partners is an emerging opportunity to drive value.