President Bill Clinton Asks IIT Alumni to Crusade Against Inequality offers coverage of Clinton's PanIIT keynote, espouses entrepreneurial approach to vanquishing negatives of interdependence.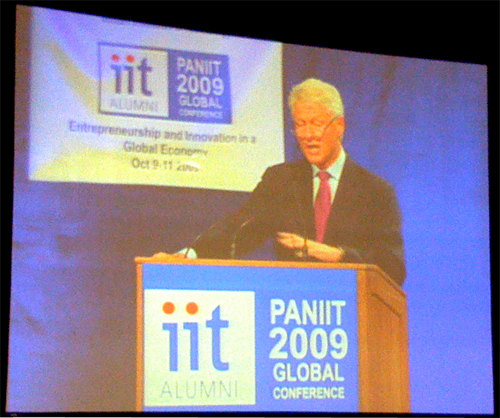 President Bill Clinton addressed 2,500 alumni of the Indian Institutes of Technology in Chicago on Saturday at PanIIT 2009 with the message: You can make an impact as an individual, and all of us have to take responsibility for creating a more equitable, stable world. Speaking at the three-day global confab, Clinton pointed out that interdependence had positive and negative consequences because it brought people together in unprecedented ways. Through actual and media contact, people start seeing how everyone else lives around the world, and startling differences are difficult to understand and accept. Overshadowing this are a slew of global challenges like disease and climate change, problems that demand unprecedented collaboration. I will both summarize his remarks and provide my analysis and conclusions.
PanIIT and the Indian Institutes of Technology
PanIIT represents the crème de la crème of India's educational system, and it's well known that many of the system's alums are well represented in global corporations and start-ups. Clinton pointed out that Indian immigrants (in the U.S.) produce more economic value than any other group.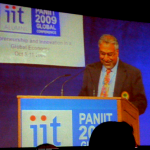 He called on the audience to put their brains and hearts to work to solve some of the world's thorniest problems. IIT is in the epicenter of India's demand for an educational system to propel an ever larger portion of the country into the Knowledge Economy. It is trying to expand capacity while retaining quality. Mr. Gupta, who introduced Bill Clinton, acknowledged Clinton for forgoing his usual speaking fee.
Big Problems, Small Solutions
A raspy-voiced Bill Clinton delivered a message that was challenging but actionable for the audience and completely consistent with Web 2.0, which enables people to collaborate at a lower cost through digital platforms and tools. His message also signals a shift from "big is beautiful" to "small is beautiful" solutions. We are accustomed to the idea that intractable problems like world hunger should be met by large, global programs that take millions just to administer and years to organize. Clinton had other ideas: focus on tipping points, which may seem small, but they are poignant and and wreak more change than first meets the eye. Here are two examples for which he had props:
Clinton's platform was largely driven by his personal experience at the Bill Clinton Foundation, which seeks to solve problems in these areas:
Live Tweeting, 10 October 2009
I have cleaned up these tweets for typos and some of the more esoteric abbreviations; to see them in original form, see my Twitter stream.
Analysis and Conclusions