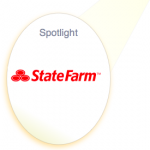 Next Door Chicago is a newish concept for State Farm Insurance that's a great example of social business in insurance. It differentiates the firm by interacting in the Social Channel. The Lincoln Park/Lakeview community center and coworking space is notable because its DNA is empowering people to improve their lives through financial education. Next Door offers free coworking space and wifi, classes on financial management that are free of product pitches, free events (some financial, some art showings and other diverse events), free conference rooms and an energetic environment. Only the optional coffee bar is paid.
Next Door's main online presence is oriented toward free membership. Members can book space, sign up for classes and hold events. Here's IDEO's case study on the concept and design process.
The Social Channel as Differentiator
The Social Channel is the new (largely digital) arena in which people talk about and collaborate on what's most important to them. Firms and brands need to recognize that few people ultimately care about products or services in themselves; they use them to achieve outcomes. Products and services are props in the play. State Farm has understood that and therefore engages people in the Social Channel, offline and online. Its website declares:
Hang out. Have a coffee. Hold an event. Our space is your space.
Social Business in Insurance Rationale
A key impetus behind Next Door was understanding millennials, who regarded insurance and financial products as [needlessly] complex and intimidating. State Farm and IDEO conducted extensive research into the space's design, which, reading between the lines, also informed their interaction strategy. Note State Farm's recognition of these Industrial Economy and Knowledge Economy trends:
Decreasing car ownership (auto coverage is their main business).
Millennials are far more likely to forego car ownership, even indefinitely, so State Farm realized they could risk losing connection with an entire generation.
Therefore, Next Door Chicago serves as a laboratory for State Farm to learn about this generation, what's important to them and how they think. State Farm can use this information to design services that enable clients. Notably, Next Door is also focused on educating State Farm employees as they interact with clients and prospects. Some key themes in its interactions:
Starting up: entrepreneurship is more mainstream for this generation (and it's more adaptive to the Knowledge Economy).
Planning, strategy and awareness of financial decisions.
People helping people; food drives, etc.
Creativity: art shows and classes.
Diversity: this is a creative class play, which is very "Knowledge Economy"!
Next Door's Facebook Page is basic and features relatively little interaction, but it offers relevant content and feels authentic. Likewise the Twitter stream isn't very interactive, but its content is on message.
No insurance is sold at Next Door Chicago.
Insights
Although I have no inside information on Next Door, I deduce that this social business initiative is key to product development. Ultimately, State Farm wants to be relevant to this generation, so they are doing the right thing in creating opportunities to relate—in many levels.