Globalization's 21st Century Makeover explains how "emerging" market companies are rapidly becoming global players—to whit, new owners for Jaguar and Land Rover.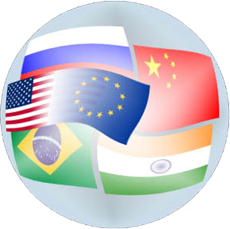 Emerging countries have long been regarded by globalizers as targets for exploitation, but 21st century market forces are turning legacy thinking on its head, which produces disruption and its sibling, opportunity.
The conventional thinking goes that emerging countries like Brazil, Russia, India and China (BRIC) have talented knowledge/human capital resources that can be tapped in outsourcing and offshoring arrangements. Moreover, these workers' employment in high value knowledge jobs creates a new consumer class among large populations. Emerging countries' rapidly growing consumer markets stand in sharp contrast to developed countries', which are flat or shrinking. China and India have been relaxing restrictions on foreign ownership, which has increased FDI, especially in China, enabling foreign companies to invest in and buy BRIC companies.
However, the big story in 2007 was the opposite:
[…]