Visions for Technology Leadership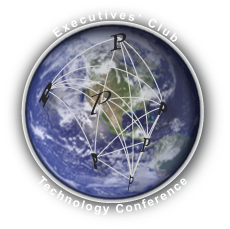 After Gary Forsee's luncheon address, a diverse panel of executives took the stage to discuss global technology leadership. Hardik Bhatt, CIO of the City of Chicago, Steve Goldman, Director of Architecture, the Chicago Mercantile Exchange, Raymond Spencer, CEO of Kanbay International, and David Weick, Global CIO of McDonald's, shared their visions for Chicago's global role in the world. Janet Kennedy, Midwest General Manager of Microsoft, gracefully moderated the panel discussion. The Executives' Club of Chicago's quarterly Technology Conference took place March 8 at the Chicago Hilton.
"Getting global" can mean many things, and panelists hit the issue from many directions. I'll venture that, more than anything, it means changing one's mindset, focus and approach, all of which are difficult to measure. All panelists represented organizations that had had international operations for decades, so how is global different?
The Many Facets of "Going Global"
Technology Conference panel represented a global professional services firm built in Chicago, a world-class futures exchange and the world's largest restaurant as well as the city itself:
Raymond Spencer offered prescient advice on creating a global company and increasing Chicago's global identity. Although he did not couch his remarks in a transformational context, the impact of his advice embodied profound change in how to look at the enterprise and the city.
Steve Goldman shared certain aspects of how IT contributes to derivatives trading, a brutally competitive business. Stock, futures, options and commodities exchanges around the world are consolidating to increase efficiency.
David Weick described his techniques for overcoming the inherent difficulties of operating in 119 countries. Success at this level is extremely important to hitting the numbers, which is critical in every business.
Hardik Bhatt shared his vision for how the City was trying to become more global by capitalizing on its assets and engaging strategic partners.
All these perspectives were valuable, but what needs more attention is identifying what is different about "global" and how leaders can achieve it. I'll offer my insights below, under Analysis and Conclusions.
Hardik Bhatt, CIO of the City of Chicago
"There's a misconception, that cities can't go out of business," Hardik Bhatt stated. "While that may be technically true, in practice, it isn't. When people and companies leave because they find it difficult to create opportunity, the city is, in effect, going out of business."
The City intends to use interaction with citizens and businesses as a competitive advantage. Make the City of Chicago easy to do business with so that it doesn't increase resistance in business processes. Bureaucracy is famous for being wasteful and frustrating, and the City is busy trying to enable its processes with technology. A case in point is business licenses. Until recently, it was necessary for a business to send a manager or proxy to stand in line at City Hall to apply in person and pay the fee—every year, between 8:30 and 4:30! Now of course, it's possible to renew licenses online.
In 2007, the City has three key technology goals:
Use digital excellence to level the playing field. Chicago is serious about deploying citywide wireless. All citizens need access, computers, software and education.
Address the (human capital) talent gap by aligning universities (supply) with corporations (demand). We need to increase communication significantly, so we can avoid losing so many graduates to the coasts (or other countries). We need to create compelling opportunities here.
Ramp up economic development. The City just opened an office in Shanghai. Focus on cultural and knowledge exchange with China, India and other rapidly expanding regions.
Also top of mind for Bhatt is public/private partnerships. The City has many assets that it can leverage, like light poles for WiMAX. He looks to collaborate with the private sector to create useful new offerings that will enhance the business and cultural climate. Also, city workers need to be mobile; Mayor Daley is very committed to people being in the field while technology connects them to information.
If Chicago is selected for the 2016 Olympic Games, it will have a huge impact on all manner of infrastructure. We will need to be GSM compatible, as most of the world's mobile customers have GSM phones. We will have to collect and deliver massive amounts of data to the world, real-time. We will build a failover data center.
Chicago has a diverse economy, much more varied that Silicon Valley's, for example. We need to promote our diversity, our success stories and our work/life balance.
Steve Goldman, Director of Architecture, the Chicago Mercantile Exchange
The CME's business arguably represents what perfect competition should look like. Clients execute trades where service is fastest, most reliable and easiest. Compared to other businesses, these things are fairly easy to measure and compare, and most contracts are tradable in several ways, at several locations. Competitiveness in this business is increasingly based on information technology because trading everywhere is electronic, and technology determines level of service.
The Chicago Mercantile Exchange is the largest futures exchange in the world, based on open interest (contracts outstanding).
The CME went public in 2002, and its market capitalization has risen significantly since. It is in the process of merging with the Chicago Board of Trade, which would cement Chicago's global dominance as a futures and derivatives trading center.
Goldman also emphasized the CME's reorganization of IT and development so that its innovation, support and service are faster. Clients trade where they find the greatest reliability, performance, functionality, capacity and availability. The exchange that satisfies gets more business.
The CME builds hubs all over the world to engage clients and provide training and support as well as massive data centers. They help the CME to have a face in local markets, to connect with clients.
IT is a driver to the CME's ability to deliver value; however, most IT decisions are made by "the business," not the IT department.
IT innovation regularly changes business processes; look no further than electronic trading or trading via tablets.
Raymond Spencer, CEO of Kanbay International
Kanbay is a quintessential global firm and Chicago success story that is too seldom told. Founded in 1989, the company provides professional IT services to clients worldwide from its Rosemont headquarters, and most of its 7,500 employees are in Asia. Raymond Spencer is an intrepid Australian, who, while stationed in India with the Institute of Cultural Affairs in the 80s, saw from the inside India's education imperative in action. After picking up some consulting experience at Lens International, he launched Kanbay to match Asian knowledge workers with unmet U.S. IT needs. He picked Chicago due to its central location, strong work force and diverse cultural and economic resources. However, he didn't get funding here (!). Today Kanbay has offices in ten countries, and it was acquired by Capgemini in Q1 2007.
Spencer is very bullish on globalization and strongly feels that it will make Chicago more vibrant. Chicago is in an excellent position to leverage global capabilities and provide its services to the world. He had this advice for executives:
Globalization is already a reality, so ask yourself these four groups of questions:

How does globalization impact your vision (for your business)? Is your global vision shared by all your stakeholders such as employees, partners and customers? Is your company aligned around your global vision?
What roadblocks (perceived or real) prevent you from realizing your global vision? Common barriers are IT/communications infrastructure, employee fears of job loss, cultural gaps, unknowns. Counter these with open communication, open houses and roadshows. Hit these issues head-on.
What is your company's attitude toward innovation? How fluid is your enterprise, and how does adaptiveness relate to your value proposition? How does knowledge sharing relate to your culture? You need to be able to innovate and adapt quickly to changes in the competitive landscape.
How global are your employees? Are you leveraging global talent? The world is a marketplace for knowledge workers, and engaging them is more feasible and practical than ever—for your company and your competitors. Do you have clear and actionable rules and enforcement regarding employees and management practices?

Capitalizing on global services growth:

There is a global war for talent; companies need to motivate people by building strong collaborative cultures, and cultures have to be consistent globally. Everyone likes to feel at the center; don't give employees the feeling that the "word comes down from HQ and that's how we do things." Have respect for people. Make sure that executives are accessible to employees around the world, and distribute leadership locally.
Leverage the boundaries of the global labor market. Practice labor arbitrage, tap global employees/partners for their diverse knowledge and ability to contribute to innovation (which always requires thinking about things differently).
Use time difference to your advantage; it is well known that "follow the sun" strategy can dramatically increase productivity.
A critical success factor of leading a global company is having the humility to connect with people. Eat with them where they eat. Don't ask them to spend personal time by getting up in the middle of the night for global conference calls unless you do it some of the time, too. People understand leadership by example.

Globalization's impact on Chicago's economy:

Globalization can improve the quality and pay of the type of jobs—in Chicago. Globalization is not about "abandoning home."
By distributing productivity globally, executives can have their companies execute a process when it makes the most sense, and where it's most cost effective. By moving simpler functions off-shore, companies become more efficient, and smart companies encourage their employees to learn more advanced skills so that they can add more value to the company, their skills and their careers. This can increase the quality and pay of the jobs available here. When companies become more competitive, that increases job security for the employees here.
Chicago is very attractive for global enterprises. It has excellent infrastructure in general, and O'Hare is a world-class airport. Chicago has a central location—within the U.S. and between Europe and Asia. Chicago is multicultural; it is easy for foreigners to feel at home here. The local amenities are wide and deep. The people are generally welcoming and hospitable.

Suggestions for leveraging Chicago's solid foundation as a global center:

Increase Chicago's visibility as a global city. Getting the Olympics would be a step in the right direction. Strengthen the conference business.
Chicago's tertiary education is world-class, but it lags significantly in primary and secondary education. Encourage study of math and science.
Promote Chicago's diverse culture; Chicago embraces diverse cultures; flaunt it more.
Create a city "help desk" to serve as a one-stop shop for companies that are looking for a location. Assist them with legal, office, recruitment, etc.
David Weick, Global CIO of McDonald's
David Weick's challenge is to enable positive"moments of truth" for the 50 million customers that visit McDonald's every day around the world. IT is not a focus in itself for the company, but it plays a critical role in making the complex simple, so employees can follow standard processes and deliver satisfaction consistently. Service must be fast and friendly, and the food must taste good. Every time.
Successfully delivering the same Big Mac at any of 30,000 restaurants in 119 countries is close to miraculous. Different languages, laws, cultural customs, ingredients, and local infrastructures—to name a few of the variables—combine to make delivering a singular experience extremely difficult. To accomplish this feat, Weick follows three key principles:
Simplify operations: make it easy for people to do it right
Standardize: 90% of the McDonald's experience is the same, no matter where you are
Modernize: apply innovation to consistently enhance the company's capabilities to deliver
Weick discussed three critical success factors in more detail:
Have a global (IT) infrastructure management team that is in charge of designing, building and maintaining a standard technology platform. They are a virtual team in that they are located around the world, which avoids forced relocations and adds to employee satisfaction. McDonald's restaurants leverage its worldwide IT system globally.

To modernize, the global team leverages the Innovation center, a 24,000 sq .ft. lab in Oak Brook that's run by 70 employees. It contains three operating restaurants, and the team has tested over 1,000 ideas.

Use a common platform globally. For example, McDonald's POS (point of sale) system accommodates the world's languages, labor and laws. It greatly simplifies operations (imagine: sales, inventory).
Modernize operations to constantly improve the company's capabilities. Obviously, this necessitates identifying key stakeholders and getting them on board. It also means creating and synchronizing activities of global deployment teams.
As far as IT's role at McDonald's, they collaborate with the business. Being successful in the CIO role is a mixture of high tech and high touch, and high touch is four times more important. Weick travels extensively to spend time in markets around the world.
Analysis and Conclusions
Practically speaking, for most executives, getting to global means transformation, adopting a new mindset. Here are some of its key elements:

See beyond "selling internationally," which is what large companies have done for years. It has often meant making the minimal changes necessary to sell the same products to more customers.
Develop a distributed, collaborative mindset. Ray Spencer's remarks were on the money here. The traditional corporate hierarchy won't work well because it isn't collaborative.
Reach out and get really curious about customers. Pressure your marketing firms to get outside their comfort zones. Insist on deeper knowledge and real-time interaction. Segmentation is breaking down, and customer groups will continue to splinter. It's still useful to consider segments for context, but go pedal to the metal to supplement information with peer to peer interactions among customers. "The world" is becoming more interactive and connected. Use social networks and blogs to your advantage. For more on this, see the 2007 Market Advisory on social networks and Web 2.0.
Lose the "us and them" mentality about labor. It will benefit everyone to tap knowledge workers globally, although doing so forces change in the short and medium term. The most critical element of success is probably insisting on a collaborative culture—and explicitly creating and strengthening it. When people collaborate, they outperform others who don't.

None of the panelists offered new ideas about global leadership, but ideas are not where Chicago is lacking:

Conviction and risk-taking is what will make things happen.
Leadership means having conviction, sticking your neck out and following through.
It means educating stakeholders about erstwhile unpopular practices like global sourcing.

"International" and "global" are often used interchangeably, but actually they have quite different meanings.

"Inter-national" denotes a scope or activity that includes two or more "nations."
"Global," on the other hand, reflects a macro scope that supercedes the national focus. A global context considers nations, even in extensive detail, but its focus is above the national.
Finally, to take an IT metaphor, you might think of international as "systems integration." It tries to increase interaction by considering the needs of entities that have been built as self-contained systems. A global effort tries to create standards that get closer to native global interoperability.

To pick up on Ray Spencer's assertion that global sourcing actually improves job quality locally, I offer the other example of Barry Wehmiller. This St. Louis-based manufacturer buys manufacturers that are often struggling—and have been for years. BW outsources select manufacturing and IT processes, which makes the (local) company more competitive so that it can increase local hiring. For more, see our coverage.
Hardik Bhatt is thinking entrepreneurially, which is very promising. Appreciating and leveraging the City's assets within the context of private sector partnerships can be a visionary approach, and he will get attention by carefully selecting examples and publicizing successes.
Steve Goldman's remarks reflected that IT capability almost defines many elements of financial services today. Derivatives trading has been globalizing for years, and key to maintaining competitiveness today means capitalizing on electronic trading and consolidation. Trading used to be very local; people traded commodities at several regional exchanges in the U.S., for example, and every country had its own exchange. European exchanges have consolidated, and several transatlantic mergers are currently in progress.
David Weick shared very sound advice for how to optimize operations for global efficiency while accommodating local tastes, certainly a key part of "going global."
At the risk of committing heresy, I'll question whether the merger between the CME and the Chicago Board of Trade (CBOT) will prove to be the best way to cement Chicago's leadership in global derivatives trading. Unquestionably, their merger would consolidate Chicago's power and influence in the U.S. However, our context here is global. If the Intercontinental Commodities Exchange's surprise offer for the CBOT goes through, that would pressure the CME to seek another partner, perhaps overseas, and it could be forced to adopt an even more global mindset.
In sum, more than anything, getting to global is about adopting an open global perspective.

This is a challenge for many employees who may never have left the country. Moreover, the few people who go abroad (for vacation) do not usually engage with the culture in a collaborative way; they typically have service-based relationships with the people they meet.
A global mindset will not come easily, and it demands enlightened and determined leadership.