Sprint Nextel's Destiny and the Demand for a New Wireless Future reports on how Sprint Nextel is betting its future on a new wired society.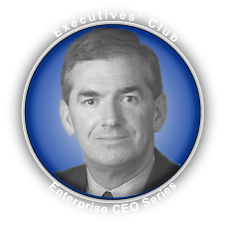 Gary D. Forsee, Chairman and CEO, Sprint Nextel Corporation, set the stage for the Executives' Club of Chicago's Technology Conference by outlining Sprint's wireless strategy and a new vision for global community at the March enterprise CEO luncheon at the Chicago Hilton.
Sprint's long history reflects the transformation of the U.S. telecoms market. The company has had a key role in remaking the U.S. telecoms industry during its privatization. It competed as a competitive local exchange carrier (CLEC) and once earned most of its revenue from long distance services, which are now essentially free. After its 2005 merger with Nextel, virtually all its revenue comes from wireless services.
Moreover, Mr. Forsee promised that Chicago would be one of two pilot cities for Sprint's WiMAX initiative later this year. Chicagoans will be among the first in the U.S. to try 4G network services.
Sprint's Wireless Future
Sprint Nextel has seen the future, and it is wireless. In 2007, having mostly completed a painful merger, Sprint is pedal to the metal to enable connected communities. People will use its network to keep connected with social network sites, multimedia (much of which will be created with handsets) and, yes, even talking. He hopes that this will help to rebuild the U.S. sense of "community lost."
Echoing Motorola's James O'Connor who spoke at the Executives' Club in December 2006, Mr. Forsee emphasized that there were 2.7 billion mobile phones in use globally, compared with one billion computers. About one quarter of all Internet users access it through handsets; however, they are growing far more rapidly than PC users.
It is easy to forget that Sprint began as a U.S. CLEC and subsequently became a "long distance" telephone company which, along with MCI, challenged AT&T for its long distance franchise. Today, 85% of its revenue and its highest margins come from the wireless business. Reflecting the relative demise of the long distance business, Mr. Forsee shared a little anecdote:
My business cards used to contain an offer of free long distance minutes on the back. Some months ago, I gave one to a restaurant owner while paying for breakfast. She was puzzled, "Why do I need this? All my minutes are free now, no matter where I'm calling!"
Sprint's merger with Nextel attempts to pair its strong consumer business with Nextel's B2B focus. The merger has proven to be much more difficult than expected, due to the companies' different focuses, networks, processes and cultures. But the merger is the centerpiece of a strategy to become a dominant wireless carrier.
In August 2006, Sprint announced its plan to deploy a 4G (4th generation) network in 2007-08, partnering with Intel, Motorola and Samsung. It will provide ultrafast throughput (most wireless in the U.S. is 2.5G as of writing) and deliver last mile connectivity via WiMAX. Sprint has aggressively acquired spectrum licenses in its quest to build a superior wireless network, and its 2.4 GHz licenses cover 85% of the households in the top 100 U.S. markets, the most of any wireless carrier in any single spectrum band.
This effectively means that people will carry their living rooms in their pockets: with wireless handsets, they will be able to exchange video and pictures, watch TV, listen to radio and surf the Internet as quickly as they can today with their computers. They will create much of this content with their handsets as well. These devices will also have e-wallet capabilities.
Sprint Stores and Pilots Set
Mr. Forsee acknowledged that it would be critical to field well designed devices that could contain all that functionality and provide the ease of use necessary to make it accessible to consumers. Taking a page from Apple's playbook, Sprint will create "help desks" in its stores to help consumers understand and use the devices and network features. The WiMAX technology to be deployed in the network is expected to offer a cost-per-megabit and performance advantage that reflects a substantial improvement in the comparable costs for the current 3G mobile broadband offerings.
In Fall 2007, Sprint will pilot its 4G Wimax network in Chicago and Baltimore.
Analysis and Conclusions
Sprint Nextel is taking a substantial risk that, if they build it, customers will come, and I give them credit for that.
They are plowing massive investment into a new 4G network, when I'm not at all convinced that consumers in the U.S. will buy the value-added services as readily as Sprint hopes. U.S. consumers have frustrated network operators thus far by their unwillingness to pay for enhanced services.
U.S. adoption lags considerably behind Asian hotspots like Korea, Japan and China as well as Europe. My guess is that it has to do with the U.S.'s computer-centric orientation.
Although Mr. Forsee didn't say so directly, it seems obvious that "wireless" will become the communications access service.
Even "telephone" service will soon be outmoded: data and voice service are increasingly indistinguishable; they are all communications. You might send a video you shot of some friends doing something wacky rather than calling another friend to explain.
On a social vector, I'm not sure what Mr. Forsee meant by the U.S. sense of "community lost," but let's hypothesize that it has to do with families living "distributed" lives. It's a fact that people are more mobile and spend less time in the same physical space than they used to. I believe that communications services can play a role here, but most important is attention, commitment and focus. Sending a video is rarely a substitute for spending time with someone. That also means giving the person your undivided attention, and not paying attention to other things during that time.