Social Computing at an Inflection Point—Preparing to Be Overwhelmed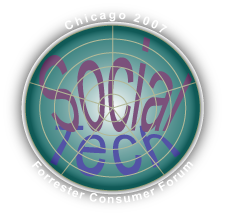 The Global Human Capital Journal's coverage of the Forrester Consumer Forum 2007 continues with this session on Delta's experience with customer blogs. Moderator Henry H. Harteveldt did an excellent job setting up the session and letting Laura R. Hunnicutt, Delta's General Manager of Customer Experience, talk with the audience about some real-world practical problems of moving executives' legacy thinking to Web 2.0. Having enterprise visionaries and thought leaders added tremendous value to the conference.
The Global Human Capital Journal published the overall conference wrap and will have several other in-depth articles in the days ahead. You can be notified as to their publication by subscribing to the forum's RSS feed.
This session showed that social computing can have a powerful strategic impact at inflection points in companies' histories. As everyone knows, Delta is recently out of bankruptcy, and the airline business is difficult on a good day. The company is in a period of high risk-high reward, and Laura gave the audience a heartfelt behind-the-scenes look at the company's Web 2.0 […]