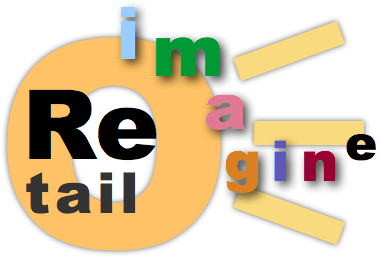 [UPDATED] The Future of the Retail Store in the Omni-Channel Age is third in CSRA's retail & omni-channel series, and it is especially relevant to Chief Digital Officers, who orchestrate profound organization change using digital technologies and processes. It also offers rare opportunity to high-stakes CMOs. Part1 of The Future of the Retail Store outlines several aspects of market disruption that are affecting retailers as a group, albeit by varying degrees. Part2 features examples of "reimagining retail" for mobile, banking, grocery, hardware and apparel "stores."
"Future" provides practical examples for the main thesis carried through the series: retailers can thrive by thinking beyond "the product" and its selection, assortment, pricing, etc., because these have a decreasing impact on revenue and profit. Digital social enables customers and retailers to focus on how customers create value with products and services, so when properly used, social is a strong profit driver, and profits are what retailers need to survive and thrive. As examples illustrate, retailers can go with the "showrooming" trend by enabling customers to imagine and try using products in real-world situations, so stores become like real-life labs.
Part1: Drivers of Retail Transformation
The Drivers of Retail Transformation is a brief summary that sets the context for practical recommendations for The Future of the Retail "Store" in Part2. The latter outlines five examples for redesigning retail experience by focusing on the new level of customer experience enabled by digital social technologies. Many elements of the retail "shopping" transformation story also apply to wholesale "procurement" although this is not explicitly addressed here. Use your, er, imagination.
Retail Evolution: A Long History
"Retail" has been evolving throughout human history as a function of changes in human work products and economic structures. In ancient times, agoras (markets), developed to exchange largely agricultural goods periodically, and towns eventually concentrated enough people to support permanent "exchanges of goods," stores. Before the industrial revolution, stores carried little "inventory" because most "products" were made to order (clothes, shoes, tools, furniture). Industrialization productized an increasing portion of human work, begetting inventory and supply chains. "Store" evolution is continuous, but today's rapidity and profundity of change is unusual.
Retail Transformation: Unprecedented and Now

The "retail experience" has always contained several value vectors, and understanding their relative value to customers is the key to transforming retail profitability. "Core," Service and Availability value vectors are familiar and are now evolving via stages of digitization. Social is the game-changer because it holds the keys to understanding how customers use products and services to create satisfaction ("outcomes"), and it's digital and scalable. For a deeper dive on the post-product reality, see Social Channel One. Here are the value vectors:
Core is most tightly linked to products; people buy based on product characteristics, price and convenience. Moreover, some products are critical to life, while others are discretionary (grocery vs. video).
Service relates to the practical helpfulness of the store's proprietor and associates, how competent they are in providing products' related services (general advice, bundling, tailoring, exchanges, replacements). It also includes their knowledge of using products to attain specific outcomes.
Availability refers to the ability to buy (and use) the product immediately as well as to the store's hours.
Social has two parts: how much being in the store itself pleases individuals or groups; also, what experiences customers can have that are unusually useful or interesting.
The Emergence of Entertainment
Wealth and leisure time have dramatically increased in economies in which industrialization has been pervasive the longest, so massive "entertainment" industries have grown to help people enjoy their lives (or avoid "boredom"). This includes various forms of live performance (dance, music, sport) as well as digitized films, gaming, music and art. For most of human history, most people have had relatively little leisure time, and they often made their own entertainment in the form of festivals, concerts and events. With increasing wealth and time, demand has grown for entertainment, and digitized forms have seen especially strong growth.
Physical vs. Digital Value-Add
The largest number of people increasingly use entertainment to amuse themselves, and entertainment products such as games and films strive to "add value" by invoking more powerful audience experiences. For example, storytelling (physical) and 3D films (digital) are both forms of entertainment, but the latter use digital tools to create ever richer stimuli. Digital technologies have facilitated the development of immersive experiences, and this trend is accelerating with gaming, augmented reality and wearable technologies, all of which have the effect of blurring virtual and physical "realities." The audience takes in the unusual or fantastic actions of the entertainer and their brains create their personal experiences. If entertainment is the result of the interaction between the entertainer the audience, the trend t0ward rich synthetic experience arguably demands less participation from the audience, which demands more synthetic "value" from entertainers.
Retailers are entertainers, too. They must provide more interesting, useful and engaging experiences that cannot be had online. Such experiences have less to do with products and more to do with using products to create satisfactory outcomes and providing sincere human face-to-fact contact.
Non-Store Shopping
Procuring goods and services outside of stores similarly has a long history, but non-store shopping has expanded dramatically with ecommerce, mcommence and mobile apps. "Home shopping" began with traveling salesmen, grew further with catalogs, TV and phone ordering, and exploded with Internet-enabled commerce. In effect, this has served to split two main aspects of retail that used to be intertwined: learning about/using the product and buying/taking delivery of the product. In 2013, procuring the product itself is increasingly easier, more convenient and less expensive online than procuring it in retail stores. Futhermore, technologies like Embodee leverage the processing power of smartphones, tablets or laptops to remove the barriers of buying clothing and other high-touch goods online. Retailers in most categories are weak and going out of business, and the sector will continue to underperform because most retailers are still too oriented toward goods/products, which are available anywhere and usually at better terms than "retail."
Traditional Retail Experience
Internet-enabled commerce has added extreme price pressure to retailers, who have cut their costs of operations as much as possible—and that means service. Store associates are non-existent or cloyingly pushy, and few know the product assortment with any depth or how to use products for desired impact. This cost-cutting has become necessary for many stores' survival, but it has become a death spiral. Going to the store used to be an effective way to get the best information about products and buy immediately, but now far better information exists online. Etailers don't pay real estate and store associates, and customers increasingly feel comfortable buying online. The "service" value vector of the retail store has steadily shrunk.
Moreover, the product assortment is always inferior in stores, so an increasing portion of customers showroom and buy online.
Retail as Entertainment
Procuring goods—"going to market"—has always fused practical and social elements. It mixed "work" (buying groceries and other necessities) with a break from more solitary routine work at home and the chance to enjoy spontaneous interaction and gossip. In recent years, "shopping" has carried this custom to malls and downtown districts, where the friends and family go to look and pass the time, walking and looking at products in stores.
This practical/social combination that physical stores offered is weakening fast, as websites and social apps enable people to socialize and shop online; customers advise each other on outfits virtually and real-time. Retailers that try to evolve incrementally will find themselves in dire straits because customer expectations are changing quickly.
Geosocial apps like Foursquare, Yelp, Google+ and Facebook are virtually untapped by retailers, who have heretofore used unimaginative approaches. Customers and employees could "check in" to various locations, share photos, ask opinions and give advice with their social networks, but retailers must encourage them far beyond trivial coupons and promotions; they must nurture social interactions grounded in (you guessed it) satisfactory outcomes of using products/services. Geosocial fuses digital and physical in simple ways and it costs relatively little.
The restaurant industry is way down the "entertainment" road; today, most restaurants serve "concepts" designed around themed experience as much as around the cuisine, which plays an increasingly background role.
Part2: The Future of the Retail "Store"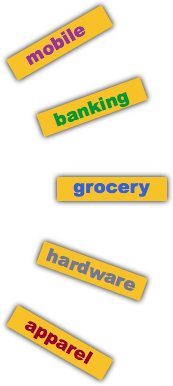 A slew of research only makes the omni-channel reality more stark: customers now interface with "stores" via Web, mobile, kiosk, telephone, physical locations and others. Therefore "store" now refers to a combined physical/virtual place to learn about, access, purchase and manage products and services.
Obviously, each customer has her preferences for researching, buying, and using products, and these are affected by context. Given this reality, it seems indisputable that "stores" that provide a unified experience that transcends interface will be preferred. "Stores'" product/service selection, customer demographics and geographies will drive how immediate omni-channel is, but all retailers will go omni-channel or bust. Timing and approach are the questions.
As I asserted in The Big Omni-Channel Trap, the highest impact/lowest risk path to reimagining the "store" is designing experiences that empower customer user outcomes. Using social business to develop and test concepts around user outcomes is ultra-efficient. Moreover, the quickest way to customers' hearts is through the Pleasure Vector, the Efficiency Vector, or both (see the Big Omni-Channel Trap). "Stores" that provide resources and experiences that help customers attain their outcomes will consistently delight customers. Keep in mind that IBM's 2012 global research netted this major trend among developed and developing country retail customers who are rewarding fewer retailers with their loyalty and spending (see How Social Changed Retail). Of course, using retail space in these revolutionary ways will also require completely different business models for physical locations, not a trivial undertaking, but one that is needed anyway.
In addition, mobile apps for smartphones and tablets are on the cutting edge of transformation because they focus and deliver "the cloud's" information, processing power and sociality to individuals everywhere.
The following examples show how mobile, banking, grocery, housewares/hardware and apparel can transform to provide value far beyond core, service and availability retail value vectors (explained above); these examples leverage digital social to the hilt.
Mobile Amusement Park (Smartphone and Tablet Retailer)

Concept: This retail location resembles a science museum more than a traditional retail "store." Imagine an Apple Store with "displays" in which customers can use smartphones, tablets, computers and other devices together in real situations like airline seats, grocery stores, conference rooms, collaborative elder care, home theaters, car road trips, kitchens and parents walking with strollers down the street. "Geniuses" guide customers in using devices in exhibits like the kitchen, educating kids in car roadtrips, etc. (bring the kids!). Keep in mind that most people in any group are lurkers, so 90% of customers will have the experience vicariously, by watching others do it. But everybody learns. The stores' smartphone app lets people make appointments for more complex situations, so the equipment is ready when they arrive. The store videos select experiences to harness digital and social multipliers.
In addition, the "retailer" organizes customer and prospect events focused on using smartphones for defined use cases (i.e. mom nights featuring apps that show how to manage babysitter schedules, pre-school shopping and sleepovers; college nights emphasize cool apps for studying and maybe auto maintenance). Bonus points for having all major brands' products, too, and showing people how they can interoperate to get things done. Digital social network enables people to learn more and keep in touch when they want.
Rationale: Studies have consistently shown that 90% of smartphones' (and tablets') features are unused because people don't know how to use them or why to use them. The unknown prevents purchase or creates disappointment when expectations/hopes aren't met. By trying ahead of time in defined "usage situations," prospects and customers can reach a higher comfort level, will use more features and create more value. That will improve margins. In addition, the "store" events are continuous innovation labs because astute Geniuses note customers' high-impact situations and feed the information to "product development."
Analysis: Mobile Amusement Park is another instance of helping customers and prospects to attain their outcomes, which are always based on emotion. For one example, moms and dads want their kids to be more popular and less bullied, and sleepovers are key to supporting kids in creating their social circles, so showing parents how to use mobile and tablet apps will create deep emotional bonds with parents. Apps are focused on letting parents have fewer hassles while maximizing kids' satisfaction.
Coworking Haven (Bank Branch)

Concept: The Coworking Haven invites clients and select prospects to drop into coworking spaces in population-dense areas. A cross between Starbucks and elite airport lounge, it repurposes some space in optimal bank branches to serve as coworking space for highly desirable mobile knowledge workers. Its hybrid approach changes the game by engaging clients in an online forum and physical coworking spaces to knit a rich community in stages. Clients check in with their banking cards; prospects use alternate credentials. The bank leverages its business knowledge by organizing physical and virtual events on specific topics like college budgeting, small business tax planning and capital investments. For a detailed overview, see Bank Branch Client Coworking Space.
Rationale: Coworking Haven drives branch sales by forming relevant, sticky relationships with clients and prospects. Moreover, the bank's experts from around the world can add value locally by advising clients and prospects on specific topics in the digital social network. In addition, clients/prospects connect on business-relevant topics, which makes the relationship to the space and its members very sticky. A second rationale is that most U.S. and European banks have too many branches, so Coworking Haven serves as a dynamic new model to use their real estate far more productively. Human networks that empower customer outcomes are the stickiest feature of any customer experience.
Analysis: Mobile knowledge workers are highly desirable prospects for banks, so Coworking Haven engages them by focusing on their viscerally meaningful outcomes. The bank communicates, "We care about you and will provide you this valuable space, so you can make calls, hold meetings and work in a professional setting."
Smartest Kitchen Ever (Grocery Store)

Concept: Smartest Kitchen Ever crosses the physical/digital divide by organizing themed lifestyle events. In Phase1, the store invites specific types of households (single male/female, single parent/multiple kids, small family, large family, multiple roommates (college or retired), etc. to onsite events that show them how to use food and technology to improve nutrition, meet budgets and increase pleasure. Retail "associate" experts demo specific apps that make menu planning and shopping easier for certain types of situations, so customers consistently boost the quality of nutrition, increase the pleasure of eating and waste less in situations like parent date nights, mom/dad/both traveling, birthday parties, kids' sleepovers, professional entertaining at home, etc. In Phase2, the grocer holds onsite lifestyle food events, where associates teach customers how to use food to reach their lifestyle goals, customers learn hands-on, and events are video taped to enable social sharing and a much larger customer audience to learn from people like themselves in situations like packing better lunches, preparing family meals and impressing dates with romantic dinners. Most people in "advanced" economies have lost the knowledge of how to use food to increase pleasure and health. Moreover, events feature active and passive participation from attendees.
Rationale: Smartest Kitchen Ever enables the grocer to become a critical asset for customers in concrete ways that matter to them. Moreover, the grocer quickly learns from participants what their challenges are, so it can adjust inventory to be more relevant. In addition, videos bring the events to the world and show how the grocer is making a difference in customers' lives.
Analysis: Upscale grocery stores have long featured paid cooking classes, but Smartest Kitchen Ever enables them to engage all relevant demographics because it is as practical as imaginative. What family doesn't want to improve nutrition without "breaking the bank?" People spend triple the money to cater an event because they are too intimidated to try entertaining on their own. In this way, the grocer becomes a living lab for people to learn about and practice situations that matter to them. They learn about useful apps and food preparation techniques that help them attain their outcomes (see Home Hackerspace).
Home Hackerspace (Housewares & Hardware)

Concept: Home and hardware retailers are gravely disadvantaged because several generations have lost the knowledge of how to do even simple things in the home, so they contract out tasks like unclogging sinks or toilets, hanging shelves or repainting the wall where baby eats. Home Hackerspace features onsite tutorials on doing simple tasks, which gives people more choices; for example, they can hang a shelf in the store, buy the tools and materials, then do it at home; moreover, they can watch others do it, too. Smartphone and tablet apps enable active participants to demo with associates' help while passive participants vote, question or comment. Permanent "displays" are less elaborate than themed events but provide educational resources. Videos of displays and themed events enable even more people to benefit.
Rationale: Home Hackerspace focuses on retailers' key customer types and outcomes that are most important to them. It boosts stickiness/customer preference, sales and profits because it addresses what people want to accomplish by using hardware and home goods. It lessens risk and increases satisfaction by letting active participants try/demo onsite, passive ones can vote, question and discuss onsite, and thousands more can watch videos. BTW, this goes far beyond cable hardware TV shows because it features "real people" like family members, neighbors or college buddies in the (nearby) "store."
Analysis: Like Style Theatre and Smartest Kitchen Ever, Home Hackerspace weaves together practicality and entertainment to create educationally meaningful events and videos focused on desired customer outcomes of using home and hardware products to improve the home.
Style Theatre (Men's Clothier)

Concept: A men's clothier organizes invitation-only themed events that enable participants to dress for defined work and personal situations (i.e. job interview, board meeting, first date, business travel). Participants can wear the store's clothing ("try on") or use their own, and they can choose to walk "the runway," where all participants use the smartphone app to select who plays in the theater. In the theater, experts lightly mentor participants in acting through the situations, experts offer insights to educate the audience on the impact of style, and participants and experts discuss results. Of course, they toast all that dared to go on stage! And video footage extends Style Theatre to the world and enables participants to share with their friends. Trunk Club is a new business model that uses customer experience to disrupt men's apparel.
Rationale: Men's clothiers have long rued the fact that "casual" has decimated formal wear sales because the sociality of dressing for professional and personal situations has splintered. People don't know how to invest in clothing and how/why it matters, so Style Theatre tackles this issue head on. Customers need to understand how clothes can help them make personal and professional impact in high impact situations.
Analysis: Men especially don't invest in clothing for fun. Although this is changing, a huge part of the market dislikes shopping, feels intimidated and doesn't understand under what conditions clothing matters. Keep in mind that the ratio of participation holds constant: on average, 10% of a crowd will actively participate while 90% observes, so Style Theatre designs participant roles to resonate with this and educate all participants.