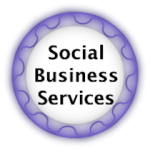 Thanks for being one of the first visitors to Social Business Services, which launched on 3 February 2012. The site has many moving parts, so please let us know by commenting on any page or post if something seems awry; we are still in the process of final tweaking and testing.
Social Business Services aims to be your front row seat to the disruption and transformation of B2B sales and marketing as well as other functions like client/customer service, human resources, product development and IT. B2B clients will change your business because they are finding and educating each other very quickly. This creates fantastic opportunity for the firms that understand and react.
Thanks for visiting!