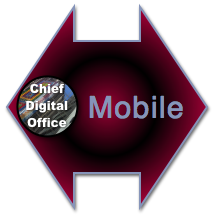 How Mobile Transforms Relationships Between Brands and Customers presents underappreciated aspects of mobile user behavior before outlining three approaches for engaging customers and other stakeholders.
As outlined in Ubiquitous Computing Primer, "mobile" is much more than a channel or platform internet-connected devices. By any measure, the Internet's information and utility are growing exponentially, and mobile devices put the Internet in people's pockets, so they transform human capabilities and experience.
People plus the Internet have expanded abilities to act and perform. For example, having the optimal assortment of travel apps enables people to avoid many problems and capitalize on opportunities; they miss planes less often, pay less for hotels and suffer less crime. The same holds true for most human endeavors, so people without mobile internet are increasingly at disadvantage. [For more context, see: 1) the "Geoweb" and "Web 3.0."
How Mobile Transforms Relationships Between Brands and Customers is Part2 of The CDO Guide to Mobile for Digital Transformation.
Mobile User Behavior
Engaging Users in Virtual + Physical Worlds
To engage mobile customers-clients/stakeholders (hereafter "users") in unique and memorable ways, we need to understand key aspects of their mobile behavior and experience. Namely, most people using mobile devices are simultaneously interacting with the Internet and the physical world.
Usually, the consequences of "dropping the ball" are greater in the physical world, which is replete with physical inconveniences and dangers.
Mobile software (applications) are by necessity designed for relatively specific use cases because users need to get information and transact with cloud applications in as few clicks as possible; they often find useful apps that can be manipulated with one hand or, increasingly, via agents (i.e. Siri).
Apps often help users accomplish specific things that involve the physical world; "mobile" adds capabilities to people who are trying to get things done.
This discussion applies most tightly to smartphones; tablet users are more likely to be seated and not interacting as intensely with the physical world, but this varies.
Rethinking Mobile Interactions
Most enterprises/firms/brands (hereafter "firms") think of their interactions with users as opportunities to promote and sell their products/services to them. This is a holdover from the Industrial Economy and increasingly pushes people away because the firm (unintentionally) communicates that it cares less about the user than about itself. For more detail, see Building Post-Product Relationship in the Social Channel.
Firms that want to be relevant and viable will shift their attention away from themselves and their products to using their knowledge and capabilities to empower users, who buy products and services, to attain satisfying outcomes of using products/services. For example, lawn mower companies have extensive knowledge of lawn care in various property contexts.
Firms that make this shift become will earn more user attention, advocacy and profit.
Few mobile executives appreciate that navigating the physical world is real-time and fraught with risks; to attain outcomes, users often have to coordinate many other people, actions, organizations and other things, and this means friction. Information can enable users to reduce friction and reach their goals more easily.
When people consistently achieve outcomes with less friction, they are grateful. This is the opportunity for firms, whose products and services are based on intense insight into "adding value" with products/services.
All they need do is shift their focus beyond product/service features to their social utility and impact on user outcomes. In so doing, they will become aligned with users, more relevant and emotionally congruent.
Personal Individualized Experience
Mobile is a critical channel to providing Personal Individualized Experience (PIE) because mobile, especially smartphone, is usually personal (computers are often shared among people, and tablets as well). Mobile provides personal interactions, information and data. PIE is the new bar, and mobile is a critical driver.
Three Ways to Use Mobile to Transform Relationships
Mobile offers firms several approaches to serve users: they can offer apps that empower users to attain specific outcomes, they can use location data to understand users better, and they can use mobile data from smart devices.
One: Use Apps to Empower Users
In a 20th century sense, a sporting goods firm uses customer research and its own testing to design products. In the 21st century, since users are talking in digital social venues about their activities, firms tap the social river to understand users' motivations for pursuing activities for which they buy products/services. The skateboard is only a means to building users' status among their friends, winning scholarships to college, wooing a romantic partner, etc. These are outcomes of doing more impressive stunts.
The firm uses its knowledge of product design, features and outcomes to design and offer smartphone apps that help people learn stunts faster and find skateparks with certain characteristics and conditions. Learning stunts is one outcome, but the motivation is social and emotional. The best apps explicitly support outcome and emotion.
In addition, when users use apps, they provide very granular information about their actions and outcomes, so apps become real-time learning labs to astute firms. Many apps provide social and gaming functions, so users can support and compete with each other.
When apps help users attain their highest priority outcomes, apps and firms become very important to users who naturally reciprocate by committing more, which they show by various social actions. They interact more, share more, refer friends, prefer the firm's products/services, share the app with friends (who tend to have similar outcomes) and volunteer their experiences and advice. They increase their involvement as a function of the importance of that outcome and the firm's consistent usefulness and consideration.
Tablet apps are increasingly used to help business users, healthcare providers, engineers and others to work more efficiently; for example, physicians seamlessly share Xrays, charts and other information, real-time and naturally during conversations with patients. Apps help students, cooks, hobbyists and families do things that are most important to them. Tablets with well-designed apps enable users to access and share information, video, music and pictures to support their interactions with other people in the physical world.
Two: Using Location Data to Understand Behavior and Serve Better
Mobile devices are digital and interactive, so they automatically provide individualized location and transaction data, which enables firms to understand individual user behavior in new ways, relatively inexpensively. The transactions give insight into users' workstreams/activities, and location helps define context, as does time of day, how many other people are there, etc.
When users trust firms, they are more willing to share their data with them. Firms can buy deidentified data about various "types" of users, but data that's tied to identified individuals is far more valuable. Firms earn the right to individual data when they consistently show that they care about and support users in their pursuit of outcomes, especially when firms truly put users first.
Three: Using Data from Smart Devices
The CDO Guide to Mobile Part1 is a primer on ubiquitous computing and smart devices. Mobile and other devices like cars, apparel, game consoles and myriad others increasingly interoperate with each other, smartphones, tablets and laptops. Depending on your users' outcomes, collecting information from smart devices could enable you to deliver that data to users in ways that support their outcomes. For example, Part1 referenced a smart retail pricing system that had (close to) real-time pricing abilities that enable clients (its business users) to price in-store items far more dynamically as a function of weather, competitor promotions, etc. The store or the brand could share some dynamic pricing information with shoppers (for example, "that item will go on sale tonight, so you may want to stop back after work").
Imagine yourself in a retail location, you have an item in your cart, and you get such a message. Yes, the retailer is offering to take less of your money for that item. But if they do it consistently, your loyalty may increase, and you may be open to more interaction with them since they have shown that they care about you.