Have you found yourself looking at your LinkedIn network and recognizing too few people? Here's how to sort it out

Many executives have allowed their LinkedIn networks to grow by reactively accepting invitations from former colleagues, club members, people they met networking, etc. One day, when something compels them to look at "their" networks, they are dismayed to see that it's not a pretty picture. They don't recognize some of the names. Others aren't really what they think of as "trusted." They might get requests from their connections to connect them with someone else in their network whom they barely know. They don't know what to do, and they wonder whether they should just throw it all away and start over. This is a very predictable and normal circumstance, and here I offer a step-by-step guide to reclaiming your network.

Weeding the Garden
Planning
The first step is to think about what you want to accomplish with your network. Do you want to stay connected with people you already know? Meet new people in a defined area? Build your understanding of social networks? Based on your goals, what people in your network and outside would have similar or complementary interests? The best gardens have a concept or strategy behind them.
If you are like most people, you will want a mixture of people in your network. Fast-moving friends, colleagues and acquaintances. People you may not know well but who are focused on things that also interest you. Think about categories that make sense to you. Try thinking along two vectors: how much you trust the person and what kind of expertise, interest or passion the person has. You might be willing to keep someone in your network that you don't know well enough to trust them but who is interested in something that is important to you. For people in that category, make it a goal to get to know them better. Everyone has his/her own comfort level about tight-tie and loose-tie connections.
Surveying
Now that you have planned, grab the rake, hoe, shears and gloves. How you go about this will depend on how large your network is. Assuming it's between 100-200 people, task yourself with taking 1, 2 or 3 letters of the address book at a time for a two-step process: qualifying and pruning. Go down the address book list, and blow by people that you know you want in your network. When you get to someone you're not sure about, click on his/her name to view the profile and measure him/her against your criteria. The big three screening criteria for many people are expertise, people and affiliations: what is the person's knowledge base? What organizations does s/he belong to? Whom does s/he know?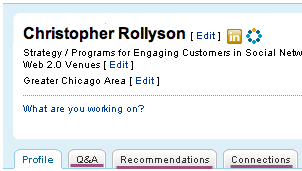 A great way to get a better flavor is to view the person's activity on Answers (see picture, right, for how to access). What kind of questions does s/he ask, and how well does s/he share when responding to questions? Finally, look at his/her Recommendations. Are they sincere and specific? Obviously the more data points, the more valuable the criterion. On a piece of paper, mark the last names of the people who don't fit.
Pruning

After you have some names on the paper, you can remove them from your network very easily. Hit the "Remove Connections" link at the top right of your connections address book. It will present you with a little "address book" where you can tick the boxes and remove as many people as you want—in one click!
When you remove someone, LinkedIn does not notify the person that you have removed him/her. You will disappear from his/her connections list without fanfare, and s/he will be transferred to your "contacts," where you can add him/her to your connections later if you want (currently, there's a waiting period of 3 days).
I recommend pruning as a separate step because it can be a hassle or an embarrassment if you delete people you don't intend to delete. By having it as its own step, you'll be less likely to make a mistake. Also note that, when removing connections, the names are not hot-linked, so you can't get any more info on that person from that screen.
Fertilizing and Tending
When you have finished weeding, you will have a much more agreeable LinkedIn list of connections that fall into two major areas:
People you trust; people "you like" often fall into this category
People who know things, people or groups in which you are interested
The Fertilizer is Trust
The next step is to focus on the people you know less well. You need to get to know them better, so you can increase your trust level with some of them. By the way, there will always be people you want in your network whom you don't trust because they have expertise you value. The converse is also true. You trust some people even if they don't have knowledge or connections that are not aligned with what you are doing. Of course, there are different levels of trust, too. Think about this; it will help you to sort things out. There are many approaches you can take to increase trust, and the most effective will depend on your and the other person's natural preferences and how well aligned your interests are:
Schedule a 45 minute call to bring each other up to speed on what's important this year and refer each other to one or two people or organizations. Once you do this, follow up with the people to whom you referred the person. How did the introduction go? Was it mutually beneficial? Pay attention to tone of voice and body language.
In LinkedIn Answers, ask the person an important question that is relevant to his/her background. What is the response like? You can ask questions privately as well. Obviously, use email to do this as well.
Introduce the person to someone else, whether through LinkedIn or email. How does s/he respond? How does his/her response make you feel?
If you're in the same geo, ask the person to join you at a round table or association meeting you're going to anyway. Do this as far in advance as feasible, so schedules don't get in the way.
Go to coffee, lunch, etc.
Of course, before you go on this campaign, categorize and prioritize your list.
Maintaining

At the same time, when people invite you, do not automatically accept. When you get an invitation, use some screening criteria similar to during Pruning above. First, how does the invitation make you feel? Is it short, specific and sincere? How much trouble did the person take?
Second, click on his/her profile. How aligned is s/he with your interests? Based on this, you can "archive" the person, which simply takes the invitation off your active invitations page. You can hit "Show Archived Messages" at any time and accept the invitation later. The person only knows that you have not responded. It's not really a rejection. If the invitation is interesting, consider hitting "send 'person's name' a message" and propose a phone call to get better acquainted. Write something like this:
"Name, thanks for inviting me to connect. I try to actively help people in my LinkedIn network, and I would like to get to know you better, would you like to have a short call to explore how we could help each other?"
If the person doesn't respond, s/he's probably not a good candidate for a "trusted" connection!
Parting Shots
Please let me know how this works for you, or suggest your favorite gardening methods!