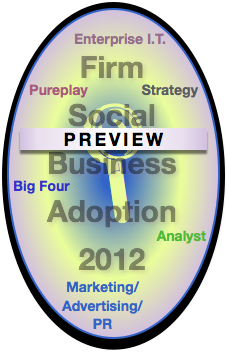 Advisory and Services Firm Social Business Adoption 2012 audits the maturity of management consultancies' and agencies' social business practices. It aims to serve CEOs and CMOs who want to maximize the potential value of social business by evolving their organizations. Similarly, it will be useful to firm and agency executives that want to position themselves as strong players in the growing market for social business strategy.
This research survey may be unique because it focuses its evaluation on firms' ability to advise clients on becoming more social by transforming their organizations. It attempts to factor out "social media promotion" since it is usually driven by marketing, not relationship. In addition, this survey quantitatively measures firms' social business commitment; firms that don't practice social business themselves cannot be credible advisors.
The Advisory and Services Firm Social Business Adoption 2012 microsite has all information pertaining to the research survey.
[…]