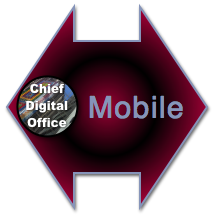 Ubiquitous Computing Primer reveals mobile's ultimate business context and enables astute digital executives to create a whole new layer of value from their mobile investments. "Mobile" is far more important than launching smartphone and tablet apps because "smart" devices will interact with each other to provide a new level of capability and customer experience. This primer is a very brief treatment of a complex subject, so follow its links to drill down.
In 2013, smartphones and tablets imply that people are interacting with each other and "the Internet," but "mobile" is becoming a "feature" of all kinds of devices and products in a phenomenon called "ubiquitous computing."
Ubiquitous Computing Primer is Part1 of The CDO Guide to Mobile for Digital Transformation.
[…]