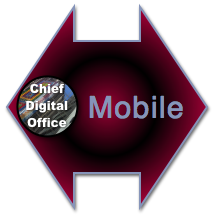 The Mobile Competency Center's mobile transformation roadmap assumes "average" stakeholder ("user") mobile adoption and enterprise competency, but its premise is that all organizations can use mobile to transform their relationships with stakeholders. This matters because most firms have weak customer relationships, which consist of mass communications, impersonal sales transactions and cost-minimized service processes. Done right, mobile offers visionary Chief Digital Officers a rare chance to increase their relevance to customers—and boost competitiveness.
This roadmap is necessarily a broad guideline because each organization's optimal path of initiatives and milestones will depend on numerous variables. The sequence and priority of each part of mobile transformation will depend on the mobile adoption of highest priority stakeholders, how the firm wants to connect with them and the firm's mobile resources and expertise. Knowing these variables will enable the CDO to sequence the roadmap.
Mobile Transformation Roadmap is Part3 of The CDO Guide to Mobile for Digital Transformation.
[…]