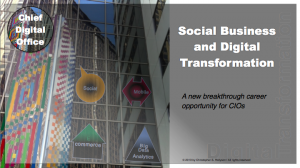 CIO Guide to CDOs and Digital Transformation summarizes a presentation I gave to TechLeaders Association, a Chicago-based CIO group. It will brief you on how digitally empowered B2C and B2B customers are forcing change on enterprises by demanding seamless interactions across digital and analog interfaces, the rise of the Chief Digital Officer and how CIOs can use this disruption to their advantage. Omni-channel will become the new normal in industries in which a leader provides the omni-channel experience and raises the bar. While explaining omni-channel, I asked the room how many had abandoned transactions with ecommerce or mobile sites because they were too difficult to use, and 40% raised their hands. When leaders field their omni-channel experiences, customers will reject laggards en masse. CIOs can use these developments to their advantage, and the CIO Guide to CDOs and Digital Transformation shows how.
Market Drivers
Individuals are using social and mobile technologies pervasively; a large portion of the room doesn't use paper maps anymore, for one small example. B2B customers are also consumers, so they are now starting to demand consumer-like functionality of their partners and vendors.
Cloud makes big data and analytics far more feasible for almost anyone.
Most commercial, government and nonprofit organizations are siloed, which leads to frustrating experience for customers, employees, partners and all stakeholders who want or need to interact with them.
There is a yawning gap between what customers demand and what organizations provide. It's widening, so boards and CEOs are hiring Chief Digital Officers (CDO) to transform the enterprise. Sitting CIOs and CMOs are very rarely up to the task because: 1) they don't have the bandwidth as they've been "doing more with less" for many years; 2) they don't have the digital competencies required. This is not "your father's digital."
I.T. Drivers
Omni-channel is a metaphor for the type of experience that all organizations will have to provide if they don't want their customers to desert them. This also holds true for other stakeholders like employment prospects. Organizations with inept enterprise "recruiting" applications will be rejected because they are too painful to navigate.
To succeed with digital transformation, organizations need the four digital competencies: social business, mobile, big data & analytics and ecommerce transformation/omni-channel. They are reviewed at length in the Chief Digital Office.
The four competencies will usually present to I.T. according to patterns: social business and mobile are relatively incremental in that they are small investments. Big data is a large ticket, new type of initiative due to its focus on unstructured external data while ecommerce has a large operating budget; moreover, it is legacy and headed for disruption.
CIO Approaches
Evolving CIO retains a traditional relationship in which the CIO supports another CxO, often the CMO, who is the change driver.
Transforming CIO aims to play a leading role in digital transformation; s/he moves into the vacuum because exceptionally few CxOs know enough about digital transformation to develop a point of view, socialize its assertions and coordinate execution.
CDO has the CIO exiting operational I.T. management to become the transformer.
Recommendations
Since digital transformation will increase the intensity of I.T. spend, it can boost the stature of CIOs and I.T. when the CIO moves quickly and develops the competencies before the inevitable spike in demand emerges. I threw this gauntlet to the room: develop digital transformation competencies at a very high level if you want to remain relevant, or you will be sidelined because it's what your customer needs. View the presentation to drill down: