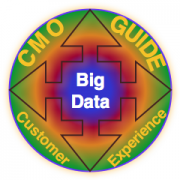 The CMO Guide to Big Data and Analytics shows how CMOs can use exploding digital social and transaction data from websites, enterprise systems, smartphones, tablets, cars, appliances, devices and the Internet of Things in surprising ways that have more to do with customer insight than technology.
The digital social world and modern cloud-based technologies have reinvented the practice of "analytics" so that it's faster, cheaper and more open. I'll paint a broad picture of this new world before referring you to other resources where you can drill down.
Big data is usually discussed from a big-ticket I.T. perspective, but new technology enables marketers to practice "lean data," which starts small and proves/iterates hypotheses before scaling with large investments. The biggest barriers are knowledge and imagination, not technology.
Big data elevates opportunities for marketers because they can know their customers and serve them better based on their actions, not only what they say. Conversely, big data is increasing customers' expectations for being treated as individuals, not "consumers."
[…]