CSRA milestones reflects on my first ten years of experiential social media, seen through the eyes of clients I've served. I'll share what I learned about what outcomes we got in each engagement as well as how it happened that I developed and pioneered experiential, which if a repeatable process for developing trust and profit at scale.
If you'd like to watch this post instead, just click the thumbnail button.
Global Investment Bank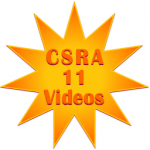 I'm grateful to a global investment bank for being my first client! I worked closely with an internal strategy team for over a year and researched disruptive digital social trends that could affect the bank and its wealth management business. This work was very similar to what I did at PricewaterhouseCoopers' strategy practice because I advised on strategy for a global business dealing with digital disruption.
The Executive's Guides
In 2007, I ended up writing the first "executive's guide" to LinkedIn, by accident. I'd been explaining the value of LinkedIn to several execs in my network and looked for a guide. When I couldn't find one, I wrote a very long blog post, which became used by people around the world!
Then, when no one was buying social business strategy during the meltdown, I created a business around it and held seminars in which I taught 100s of people and firms how to develop relationship and trust with LinkedIn. Then I expanded to Twitter, Facebook and Blogging.
Fortune-50 Retailer and Global Electronics Brand
In 2010 things came roaring back, and I signed a Fortune-50 retailer and a leading computer components brand for social business strategy. This work enabled me to develop the techniques and tools of ethnographic research of social media. I analyzed behavior of such diverse stakeholders as gamers, tech support geniuses, doll collectors, home gym enthusiasts, home tech support draftees, moms trying to reclaim their bodies, game room designers, and middle aged guys trying to get their mojo back.
Local Government
Also in 2010, I signed a local government near Washington, D.C. who wanted to use social networks to build a stronger community. I studied high-impact niches of constituents, some of whom were very critical of my client. This work drove home the importance of experiential for physical communities and showed how digital and face-to-face interactions affect each other. Through three pilots, the client reclaimed its leadership role and reputation in the community since constituents experienced its care and relevance in real time. More details…
Global Non-Government Organization [Nonprofit]
Then I worked with a global nonprofit and did ethnographic analysis of social media in ten regions globally, so this helped them understand how their value proposition varied among diverse constituent groups. Research revealed how services could be designed in one geography and migrated to another. In addition, it revealed amazing consistency and the need to transform its membership and service model. Pilots explicitly developed experiential competencies which the the client migrated to other teams.
The Social Channel App
In 2013 I decided to write my second book to share my insights, tools and techniques at scale. I worked on it full-time for most of 2013 through 2015, and it ended up being 450 pages long! As it was taking shape I decided to make it an app, so readers could learn more quickly and easily.
While building the App, I did small ethnographic and experiential projects in real estate, plastic surgery, medical systems and others. It was fun to see how experiential looked in all these different contexts, which was fun and useful. More details…
Case Study in Consumer Electronics
In 2015, I partnered with a digital agency to conduct an experiential case study for a consumer electronics firm. We tested experiential in two steps. We used the client's results over the past two years as a baseline. First, I conducted a short ethnographic analysis and provided guidance to their social media specialists, and we compared their results against traditional brand-focused social media. Then I created and led a team in experiential interaction. So step1 used ethnographic insights into stakeholders, but it was content-focused. Step2 shifted from experiential content to interaction. Results were even better than I'd imagined: step1 increased social media referrals to the client's ecommerce site almost 3 times while step2 increased referrals over 11 times! More details…
Drive to Trust
Now, Drive to Trust will compare experiential with partners' content- and brand-focused social media for business results. CSRA is partnering with all types of firms to test experiential across all industries. I aim to prove that trusting and supporting people in public produces more and better business than serving content and talking about the firm. More details at Drivetotrust.org.
More CSRA Milestones
So this has been an exceptionally short treatment of my first ten years of experiential social media, and I'm busy embarking on the next ten years. Drive to Trust will produce more evidence and examples of how experiential produces real-world business results, without marketing. As I've asserted for years, promotion- and brand-focused marketing will continue to lose its ability to produce results.
Empowering people will be the new way to communicate firms' relevance and care to customers and employees. The only question for executives is when to change. In this ever-faster digital world, earlier is better.