Adoption Weakened by Compliance Risk and "So Obvious It's Invisible" Value Proposition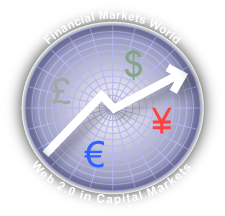 The Global Human Capital Journal's coverage of Financial Markets World's Web 2.0 in the Capital Markets Industry conference continues. In this session, Dion Hinchcliffe, a leading writer and consultant in Web 2.0 and Enterprise 2.0, described how capital markets firms were adopting Enterprise 2.0. After some general points on enterprise 2.0 adoption, he referenced early work of Dresdner Kleinwort, AOL, T. Rowe Price, Wells Fargo and JP Morgan. As usual, I'll summarize his remarks before sharing my analysis and conclusions.
Dion has collaborated repeatedly with O'Reilly, the folks who officially coined the term "Web 2.0" and hold one of its most well attended conferences. He began his presentation with the definition of Web 2.0: (using) "networked applications that explicitly leverage network effects." In my view, that means purposely leveraging P2P (peer to peer) technology. They scale exceptionally quickly because they are easy to use, people who like to use them do so on their own time and for their own passion, they leverage the Internet and the cost to use them is negligible.
Enterprise 2.0 Adoption Factors
In general, the enterprise is moving away from "central production" to "peer production" and from an internal focus to an external one. YouTube receives 65,000 videos per day.
Blogs have developed into a platform; it is now very easy for most users to add widgets to their blogs (incorporating video and audio content). To have cred, they must have comments.
Adoption of Web 2.0 is sometimes spontaneous, and we still have little insight into what form it will eventually take. Within days of Hurricane Katrina in 2005, 100,000 people had used blogs (and social network sites) to report on their whereabouts, as other forms of communication were unavailable. The enterprise lacks imagination about how to use these technologies. The tools must be simple to encourage adoption.
Is social networking part of Web 2.0? O'Reilly has not addressed this, and the two must be reconciled. Facebook is definitely for business (even though it did not start that way).
Consumers are way ahead of the enterprise, which is generally in the pre-definition phase. Consumers are emergent. One example is tagging (emergent) vs. defined taxonomies and analysis paralysis (enterprise).
How Is Enterprise 2.0 Different?

It is an order of magnitude easier to use. Hinchcliffe calls it SLATES:
Search- being able to find content and people very easily
Link- automated features for connecting content according to personal preference
Authoring- creating content as (or often more) easy than using a word processing program
Tag- one-click functionality for identifying and sharing content
Extensions- adding features very easily, extending functionality of your space (blog, wiki)
He contrasted Enterprise 2.0 with conference calls, many of which have dozens of people participate. However, this is largely wasteful since only one person is able to speak at once. The tools are getting increasingly sophisticated. For example, wikis and blogs can display different content depending on reader permissions. This is emerging functionality.
Pioneering Uses of Enterprise 2.0 in Financial Services
Parting Shots
Putting on his CTO hat, Dion's mentioned that Microsoft SharePoint 2007 was missing several key features and may lack scalability for certain applications. (Be prepared to be behind the curve when using it).
Firms do not have to develop an enterprise 2.0 strategy. Make the tools available, and people will build the ecosystem. Approach it as a "perpetual beta" endeavor.
Analysis and Conclusions: So Obvious It's Invisible
One of enterprise 2.0's main problems is SLATES. Looking at the list, there's nothing that is obviously different, that suggests discontinuous change and a big upside. This fact gives enterprise 2.0 its challenge and opportunity. It looks like continuous change, a matter of degree. I'll risk sounding cliché here, but the way that SLATES combine delivers a tipping point for widespread collaboration. The tools are easier to use, and they deliver one-click features for identifying and sharing content, which will cause people to share much more, more often. Overlay Gen Y's penchant for collaborating as well as the tools' native handling of metadata, and the whole thing resonates. This will catch most executives off guard.
Investment banks, as illustrated earlier in the day by the compliance panel, have clear reasons to hesitate before adopting enterprise 2.0 and they don't yet see a value proposition that compels them to face the compliance risk. Another twist: everyone's experimenting, but it's under the radar. They don't know what their competitors are doing and how they stack up. It's wait and see.
Enterprise 2.0 is practical for CIOs—from people, process and technology perspectives:

It does not call for reorganizations or implementing complex, expensive technology solutions. It overlays an emergent web of relationships onto existing enterprise systems and processes. Moreover, it is not an all-or-nothing proposition. Due to the nature of networks and the technologies, CIOs can enable open collaboration in areas that do not harbor conflicts of interest. The technology is rapidly increasing in sophistication, and it will increasingly automate access and permissions. It is an emergent proposition, not a big bang, like enterprise 1.0 (read ERP) was.
Wikis, tagging and blogs are highly distributed, and many are built on light, evolved platforms.
Enterprise 2.0 tools are exceedingly simple, transparent and real-time. If using proprietary enterprise software solutions is like driving a Ford Model T, Enterprise 2.0 tools are like hopping into a Ford Focus: instead of tweaking the carburetor, turning the crank and fussing with the choke, you just insert the key and go.
Current enterprise software solutions generate extensive resistance because they impose highly structured designs and processes.
Because people think and organize thoughts differently, structured systems alienate some while accommodating others. Their training and learning costs are high.
Enterprise 2.0 underlying technologies like Ajax are highly evolved and object-oriented; they are robust and interface easily with SOA-enabled enterprise systems. Enterprise 2.0 coexists easily with existing enterprise systems like email, document management and ERP.

I agree with Dion that an enterprise 2.0 (big technology) strategy is not required to succeed with enterprise 2.0. Monolithic big bang IT projects (read "expensive") were a different animal. However, my experience indicates that vision and strategy will be critical for investment banks and other hierarchial firms to succeed for a different reason: they will need to remove cultural and organizational constraints to collaboration. To be done quickly and effectively, this will require executive understanding and support. Firms that have it will, all else equal, succeed more quickly than those who let it bubble up in isolated pockets, in spite of the organization.
Web 2.0 and social networking are dizygotic twins. Web 2.0 largely refers to technology, where social networking focuses on connecting people with each other. The technology enables the discontinuous change that is emerging, but people make it happen, and social networks are a vehicle. In a more abstract sense, online social networks make explicit the kind of networks that have been crucial to humans' success, even predating the emergence of homo sapiens. Social networks are a medium for people to focus on using the technologies to change behavior and generate opportunity. In a sense, social networks are key customers of Web 2.0 technology.
Picking up on Dion's conference call example, my research shows that chat is giving conference calls a new lease on life. Participants listen to the conversation while they spin off into chat rooms to discuss nuances or related topics. Smart banks analyze the chat conversations, thereby getting a much clearer picture of what "the crowd" thinks about the topic. Prior to chat, the crowd's thoughts were largely invisible.