India Trade Minister Draws Chicago-India Parallels at Executives' Club offers coverage of Shri Kamal Nath's Chicago presentation. Key themes: new global economic architecture presages economic realignment and thinking beyond the obvious to tap emerging opportunities.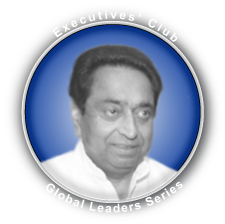 Illinois leaders were addressed by His Excellency Shri Kamal Nath, Minister of Commerce and Industry, Republic of India. True to form, His Excellency struck chords of transformation, partnership, common interests and harmony at the lunch held in his honor at the University Club on 19 February 2008. Attending were Chicago Mayor Richard M. Daley, Mr. Rajinder Bedi, Managing Director of the Illinois Office of Trade and Investment, The Honorable Susan Schwab, U.S. Trade Representative, Craig S. Donohue, Chief Executive Officer, CME Group and John Estey, President & Chief Executive Officer, SC Electric Company.
Reading between the lines, the U.S. and India stand at a significant turning point: India's impressive economic growth is a significant element of the ongoing redistribution of global economic power—which holds excellent opportunities for U.S. businesses and workers that are looking for it.
The India delegation was in Chicago to launch a major initiative to reposition India in the eyes of U.S. voters, businessmen and policy makers. Called 'Investing in America: The Indian Story,' the initiative seeks to explain the impact of inbound FDI (Indian 'foreign direct investment in U.S. companies) on the creation of U.S. jobs and other benefits. Members of the delegation are keenly aware that many U.S. voters see Indian knowledge workers as 'taking U.S. jobs,' when the reality is much more multifaceted. After my reportage of the event, I offer my insights in Analysis and Conclusions.
Remarks by His Excellency Shri Kamal Nath
What a difference 35 years make. His Excellency drew parallels of transformation between Chicago and India. He first came to Chicago in the 1970s, when the city was entering a period of industrial decline and was anything but charming. Today it is recognized as one of the greenest cities in the world and as a North American City of the Future. India's transformation may be even more dramatic as it is undergoing people, policy and economic paradigm shifts simultaneously. Here is a summary of his remarks:
Democracy as Strength
India is the world's largest democracy, and it shares a vision with the U.S. The people of India deeply respect pluralism and diversity.
Economic development in a pluralistic democratic country is a struggle because society is complex, and many agendas have to be addressed.
India is a free market economy but is developing slowly due to its democratic tradition. (For example, democracy slows infrastructure development due to property rights and philosophical and religious beliefs).
India has a special model, its own model, and that is a foundation of strength. India is proving that it can adapt its growth strategy to changing conditions.
Development
Many years ago, global leaders and United Nations officials looked at India and said that it would never make it (progress beyond third world status; it was too fragmented and backward), but look at today.
India, China and other areas offer increased investment options. India is genius at figures and knowledge work, which is where 75% of the FDI is. India has a vibrant stock market.
India has the fourth largest foreign reserves in the world.
Indian banks' (reserve) ratios are among the highest in the world. Intellectual property is respected, protected and enforceable. India has significant institutional strengths.
The government has tightened the money supply to tap down growth to more realistic and sustainable levels. FDI has increased every quarter.
India is moving aggressively to build its economy in manufacturing and services (to give everyone a stake in its economic miracle).
Infrastructure is a notorious problem: for example, mobile phones are ubiquitous but many people have never used a land line phone.
India has a high demand for additional power, and His Excellency appreciates President Bush's trust, which is reflected by the U.S.-India nuclear power agreement. Meanwhile, it is not India that poses the risk, but countries like Iran and North Korea.
Trade
China is emerging, and the importance of the U.S. on the world stage is being tempered by the emergence of Southeast Asia. A new global economic architecture is emerging.
Everyone is concerned about the advent of protectionism in light of the sentiment of slowdown.
India is a significant net importer of U.S. goods and services (has a trade deficit with the U.S.). India has extensive FDI in Illinois, in the heartland of the U.S.
The currency situation is affecting India-U.S. trade (the Rupee is appreciating significantly against the U.S. Dollar). India goods and services and becoming more expensive to U.S. customers, while U.S. goods are becoming more affordable to Indian customers.
This increases U.S. imports to India. It also forces Indian companies to add more value and become more competitive (they can't depend on being low cost providers as much as in the past). The Indian government faces significant pressure from local businesses to protect them against foreign competitors, but it is resisting protectionism. Its attitude is that Indian businesses need to be more competitive.
Doha prospects: we have made progress but we must appreciate that we are dealing with the toughest issues, especially agriculture. The Uruguay Round did not go so far. The global economic architecture is changing. We must push to complete the round while appreciating the progress we have already made. We need to tear down the barriers and address the shift to services (away from manufacturing). We all fear protectionism. We have a window of opportunity. If we don't succeed by a certain deadline, that doesn't mean that the round is dead, it will just keep going, we cannot lose heart.
Part of the problem is there is little sense of urgency (to complete the round). The greatest fear is fear of the unknown (no country wants to be disadvantaged by signing, and the economic impact is not fully known as outcomes are functions of complex trade-offs).
Analysis and Conclusions
Many U.S. voters still regard India as an impoverished country, but the reality is more complex. Some salient facts:

India's GDP grew 3.8% in 2002 and 9.2% in 2006 and is projected to grow between 7 and 8% from 2008-2012.
India's outbound mergers & acquisitions dwarf inbound: in 2007, Indian companies bought $33 billion of foreign assets while foreign companies bought $16 billion of Indian assets.
Six Indian companies are in the Global 500 in 2007; twelve are projected to be included by 2010.
India's exchanges ranked fifth in the world for numbers of IPOs in 2007.
India has the ninth largest population of millionaires in the world.
One fifth of the world's population under 24 years old lives in India; its domestic market has tremendous potential.

India is a democratic country that is creating tremendous wealth.

India's challenge is to broaden the impact to a wider portion of its population, many of whom are agricultural workers.
This is a very pressing issue: as a democracy comprised of a patchwork of diverse cultures, India needs to educate its population while creating opportunities that enable newly educated people to move into manufacturing and knowledge jobs. Many of India's knowledge workers are the first generation in their families to exit rural areas for the cities.
At the same time, India is part of the global economy, and its brightest entrepreneurs have choices about where to create companies (many are educated in the U.S., Canada and Europe). Many Indian executives I know are frustrated at India's democratic process because it means that decisions take forever and slow time to market.
In this context, manufacturing has a special role: in most cases, it is easier to transition agricultural workers to manufacturing jobs than knowledge jobs, even though manufacturing taxes India's physical infrastructure far more than knowledge-oriented jobs.
As a democracy, India has challenges that China, for example, does not have. Its policies can be voted out of office. India has a significant socialist legacy, so retreating from free markets is a very real possibility if politicizing citizens do not have a stake it the country's prosperity.

Indian executives are leaders in practicing the 'global delivery model,' which is best practice for many operational processes.

The global delivery model holds that firms knit together processes from capabilities wherever they exist in the world.
For example, if certain U.S. customers do not like to talking with representatives with certain accents, turn off the call center in one country and turn it on in another. Execute accounts receivable wherever local capabilities create superior execution.
Ditto for supply chain management, financial analysis and market research.
Indian knowledge workers have served as the 'back offices' of many of the world's most sophisticated companies through outsourcing and consulting contracts, and they have learned advanced business process design and execution expertise from the best teachers. Today, they are among the best teachers.
The second generation of these workers is now in the executive ranks (of Indian and global companies). They are showing that they have much to offer when buying western assets with outmoded business processes and cratering profitability. I know several Indian companies that have bought rusting U.S. and European manufacturers and quickly turned them around by improving their business processes. In many cases, these companies, long in decline, have increased local employment because they have become more competitive. However, their growth comes from their differentiating capabilities, not support processes.
U.S. executives of companies in mature businesses hampered by legacy processes should seek out case studies and consider partnering with companies with executives with sophisticated process experience.
From today through the medium term, business process will be a major driver of competitiveness. IT-enabled processes will increasingly standardize, and they will commoditize in the long term after a prolonged period of standardization. For an excellent article on the commoditization of processes, see Tom Davenport's classic.

The emergence of India creates significant opportunities for U.S. companies.

Reflect on the fact that one fifth of the world population 24 or under lives in India. This should be eye-opening for leaders of companies that offer consumer products and services. Having a global perspective is now simply a fact; moreover, creating an Asian focus will be the key to survival, and even more so to thriving.
Many U.S. companies could benefit from partnering with Indian companies along two vectors:

Short-term: partner with Indian companies to improve process execution and to learn the global delivery model. Improve competitiveness significantly through lower costs and increased focus on unique capabilities.
Long-term: increase your company's appreciation for Indian culture by organizing your employees to collaborate closely with Indian colleagues. Work to spread cultural knowledge around the firm. This requires rethinking cultural biases and instilling a global culture in which cultures are separate but equal.