Time-pressed executives must always think about what they are getting from their work as well as what a proposed situation (job, board of directorship, volunteer position) will cost in terms of time, energy and aggravation. All jobs are increasingly collaborative, so when you understand how to use LinkedIn for due diligence, you will go farther and endure less aggravation at the hands of future colleagues.
LinkedIn is an excellent reference checking tool, so here I will give you the quick run-down and refer you to a hilarious-for-some post by Guy Kawasaki for additional detail.

Using LinkedIn Reference Check
LinkedIn makes it easy to avoid personality surprises by locating people who used to work with prospective colleagues. All you need do is to search for people whose roles and dates correspond with your prospective colleagues' former positions. Don't only focus on the boss, but consider people on whom you will depend but not have much influence over, people who could make your life miserable. In addition, as they will probably be in management, look for patterns of people leaving under their watch. For example, if the person you are checking is CFO of the prospective company, look for accounting staff turnover rates the finance function in their former jobs as well as the current company.
Refine Your Search with LinkedIn Advanced Search
Reference Check won't get you all the way there in certain cases. For example, when the firm is large, you will come up with too many people, so you can use Advanced Search to can add keywords: if you're an M&A powerhouse, add select keywords under Advanced Search to be more precise about the people you find. If you're interviewing for CMO, check out the VPs' former reports by using keywords, dates, geos and companies together.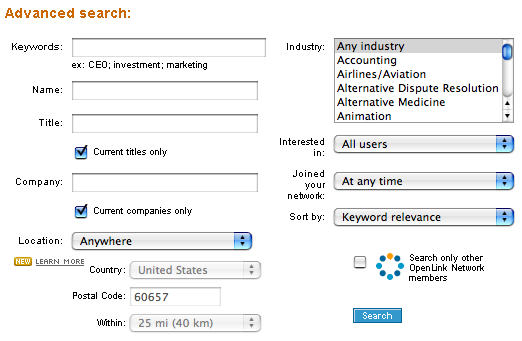 As you presumably know quite a bit about the position you are interested in as well as interdependent roles, search by job titles and uncheck "current companies only" and "current titles only." Also consider constraining it by geo, although this may not be relevant: someone can give you grief wherever they're based in the world! This search will give you many of the alums of that organization who were contemporaneous with your prospective boss and colleagues.
By the way, this post also applies to key figures in prospective client companies, or anyone else with whom you are considering working or collaborating.
Knowing What to Ask and How
Now that you have found the people, read Guy's LinkedIn and the Art of Avoiding an Asshole Boss for example questions and approach. Even if you rustle up some skeletons and decide to join the organization, you will be forewarned and can set expectations accordingly.