The Social Networking Conference has become increasing populated with enterprise presenters and attendees over the last year, so Marc Lesnick and I decided to offer this workshop to get to the heart of the matter: how to create a repeatable process for designing and managing successful enterprise social networking initiatives. I put this together using key pieces of the Social Network Roadmap that I use to advise clients. Since January 21was this workshop's maiden voyage, I'll share my reactions and insights as well as give you an overview of what we did in three hours. I structured the workshop in three fifty-minute sessions.
Enterprise Social Networking Overview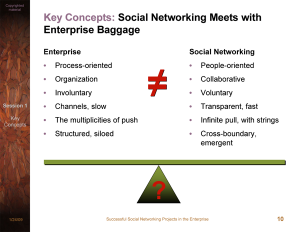 In 2007-2008, most large organizations experimented with social networking as curiosity. They often used a skunk works approach, enlisted some outside help and tasked employees (often marketing) with the experimentation. This is very normal when a disruptive technology is in the early market because the market hypes every new thing and healthy skepticism is a good practice. However, now the Early Majority is quite engaged; fewer executives doubt that they will have to do "something" with social networking, but they don't know what exactly or how. Workshop participants hailed from such diverse industries as government (DoD), aircraft/defense, healthcare tech, marketing firms, communications firms, import/export and others. Some people (guess which) had major security concerns and very little experience while others ran their businesses on forums and communities.
The first session took a look at social networking and the special opportunities and threats it posed for the enterprise. Moreover, it presupposed that organizations would increase their activity significantly, and it proposed a formal adoption framework (the Social Network Roadmap) to mitigate the risk of adopting much more quickly. Some of the key things we covered were:
Social is business is knowledge; social and relationships
Special problems organizations face when adopting social networks
Market factors that are driving companies to use social networks
The ecosystem mindset and its vital role in success
Stakeholders and workstreams
Venue reviews: Facebook, LinkedIn, Twitter, wikis and blogs
* Apps: iPhone, Facebook, LinkedIn, MySpace…
Key deliverables were: big brand application templates (how/when to use them) + more of an understanding of the new context of adoption (from experimental to pervasive/strategic)
Business Cases and Solutions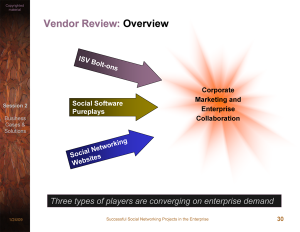 The second session focused on business cases and the vendor universe. When introducing a (relatively) untried disruptive technology and concomitant processes to a mature organization, leaders need to respect the organization's attitude toward risk and how to structure initial projects so they don't lose an inordinate amount of time in "ROI hell."
Business models/examples for using social networks to drive the top line: revenue examples from Dell, Rate My Space, Threadless, Men's Health
Business models/examples for using social networks to reduce cost: examples from LinkedIn, Dell, Cisco, Socialtext
Business models/examples for using social networks to increase revenue while reducing cost: example from unnamed Big Four consultancy
Business models/examples for using social networks to drive innovation: example from P&G
The review of the vendor universe organized potential partners into three types: ISV Bolt-ons, social software pureplays and social networking websites; we examined numerous examples of each; participants were using all of them, and their examples added to the discussion
Update: we also covered when to build your own social network, when to use existing spaces and when to do both
Key deliverables were: case studies for each example, a vendor selection framework and a selection framework diagnostic checklist
A Blueprint for Successful Enterprise Social Networking Initiatives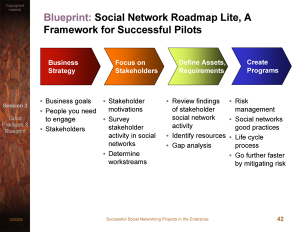 The third session introduced a very simple methodology for adopting social networks while mitigating risk, using parts of the Social Network Roadmap. The idea was to give participants a practical process to address the adoption life cycle and help them to take current projects to a higher level and to structure new projects for success.
Emerging good practices
Pitfalls to avoid
Examples from Facebook and invoking public data to increase relevance
Stages of adoption and risk mitigation techniques
Adoption Blueprint in four stages: Strategy, Stakeholders, Assets/Requirements and Programs
Key deliverables were templates for each blueprint stage
Parting Shots
Our discussions confirmed that most people did not understand the ecosystem: how to serve it and how to invoke its services; traditional organizations are not accustomed to asking customers or other stakeholders for help, nor are they comfortable with serving "people" who do not have traditional stakeholder relationships with them (such as "customer," "shareholder," "analyst," "employee," etc.)
Social networks are masquerading as a "tech" thing, and people still think of them as technology. This can cause sponsors to miss the people part. This results from Web 0.1 and Web 1.0 baggage when technology was much more of a focus.
People said that approaching the present from the standpoint of the future was very helpful.
See the workshop preview here.. or its news release here.
Please weigh in!