Three CIOs Share Vision and Techniques for Creating the Networked Enterprise—Facebook and Tagging Creep In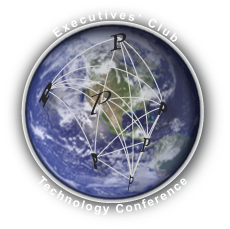 After James Owens' luncheon address, the Executives' Club of Chicago's 2007-08 Technology Conference series opened with the CIO of the Year Award and a sneak preview of the 2008 Chicago Technology Outlook Survey.
Then a diverse panel of executives took the stage to discuss the role of the CIO in the "networked economy 2.0." Bahman Koohestani, Senior Vice President & Chief Information Officer, Orbitz Worldwide, Paul Mankiewich, Chief Technology Officer, Alcatel-Lucent and Karenann Terrell, Chief Information Officer, Baxter International, shared their visions for the evolving role of the CIO and IT. John Gentry, Partner and Managing Director, CSC Consulting, moderated the panel discussion with aplomb. The Club's quarterly Technology Conference took place October 16 at the Chicago Hilton.
Although the panel represented such diverse businesses as pharmaceutical giant Baxter, global network equipment provider Alcatel-Lucent and travel sensation Orbitz, all were very focused on how CIOs needed to enable a new level of innovation by fostering a new level of trust and adopting a networked model—for everything. […]