Sneak Preview of the Executive's Guide to Facebook Slated for May 4 in Chicago
Special Double Session: LinkedIn and Facebook Guidance for Executives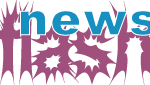 I am very pleased to announce that I will officially launch the Executive's Guide to Facebook on Memorial Day, May 25, 2009.  It will show executives how to develop relationships on Facebook that they can include in business networking.  Moreover, the most effective business people will use Facebook and LinkedIn together to develop synergies.
You can get a look behind the curtain in a special "sneak preview" on May 4 in downtown Chicago, following an Executive's Guide to LinkedIn Classroom Seminar. Here I'll share some thoughts about the offerings.
Most people assume that "Facebook is for 'personal' and LinkedIn is for business,"  and this causes them to overlook opportunity.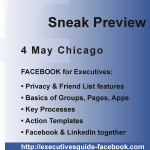 Even more interesting, Facebook enables members to "hive off" personal from business, so it is quite possible to have multiple "personalities."—when you know how to use Friend Lists and to organize your content. You can assign rights to various parts of your Facebook profile to different Friend Lists (i.e. "Family," "Undergrad," "Professional" and "Sri Lanka"). Don't want the colleagues perusing your baby pics? No problem, just hive it off from friends except Family.
LinkedIn and Facebook: Stronger Together
For the record, I believe that LinkedIn is the business executive platform of choice for most business-focused executive relationship building.  But I would be remiss if I did not act on the tremendous opportunities for using Facebook and LinkedIn together.
Social networking is about developing and maintaining relationships, and each venue gives its own social context to the process.  LinkedIn is ideal for business relationships.  But Facebook is an excellent venue for developing relationships, even though its primary context is "social."  Many of your Facebook relationships can be applicable in business—but you have to know how to ask and how to juggle the two.  This is a tremendous opportunity for the Executive's Guide to Facebook.
I invite you to read our official news release for more information.
Please share your thoughts!