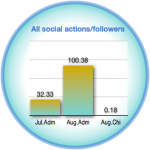 Higher Education Case Study: Experiential Social Media for Columbia College Chicago
Experiential social media case study for Columbia College Chicago shows how interaction-based experiential social media performed against traditional content-focused social media. Quantitative metrics compare results from content-focused social media to interaction-focused social media.
Profile

Columbia College Chicago is a private, nonprofit college offering a distinctive curriculum that blends creative and media arts, liberal arts and business for nearly 7,500 students in more than 100 undergraduate and graduate degree programs. Dedicated to academic excellence and long-term career success, Columbia College Chicago creates a dynamic, challenging and collaborative space for students who experience the world through a creative lens.
Business Challenges
"Social media" had been largely dormant at Columbia when management met CSRA in 2016. As a strong communications school, Columbia had many pockets of enthusiasm and early adopters, but these early efforts did not produce any enduring effects. Meanwhile, the practice of using social media within a coordinated marketing and communications strategy was growing, and the Strategic Marketing and Communications team wanted […]