Take advantage of breaking Web 2.0 trends to manage risk and enhance rewards in 2009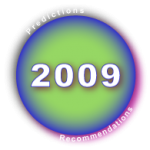 2008 was a momentous year punctuated by rising economic uncertainty, Web 2.0 innovation in politics and increasing opportunity to create uncommon advantage in many industries. How much can volatility increase? We are on a merry-go-round that's accelerating; it's giddy and scary, depending on one's point of view.
To celebrate and help you to seize the day, I have spent the past week on three articles that represent some of my most important writing of the year:
I invite you to peruse them and add your reactions and thoughts.  I strongly feel that 2009 will prove to be a pivotal year with elevated opportunity and threats.  New leaders emerge when rules change, and Web 2.0 and social networks will be vital to gaining relevance as stakeholders' expectations change and a new level of innovation and flexibility is required to survive.  I'd appreciate your point of view as well.
In case you do not know the Global Human Capital Journal, I founded it in 2005.  It is a strategy journal written for executives with a global mindset who want to understand and profit from the shift to the Knowledge Economy.  Much of the focus is innovation and Web 2.0 because they are two key levers of advantage.
If you like it, I invite you to subscribe to the journal's via its monthly email or RSS.
All the best to you in 2009.