Content Providers Hobbled by Conventional Thinking—UGC May Fill Content Vacuum in Plum Mobile Video Market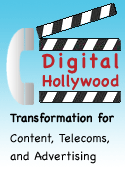 At Digital Hollywood Chicago, speakers held that video would grow significantly as a portion of content experienced on the three screens. However, no panelist gave a compelling reason that video would grow—and there are many problems that will dampen adoption in the short- to medium-term. I question whether they are just trying to drive demand to drive their businesses. Don't forget that this conference is digital Hollywood.
Myopia is content owners' biggest problem: they seek to repurpose existing content for the mobile screen to amortize past investments. This logic permeates their thinking and prevents innovation. Meanwhile, consumers are awakening to the excitement of consumer-produced content, the prices of software tools are falling, and skills are increasing. True, the production quality is usually amateurish, but UGC (user-generated content) is usually free, fresh and relevant—to niches, which is where the action is. Users produce content for fun, and they can afford to address topics that "professional" content cannot. Mass-produced vapid content will still have a place in the consumer entertainment universe, but it will decreasingly be the default.
Mobile video may be especially well suited to UGC: attention spans are short, so relevant short videos, created by other consumers, may be most relevant because they may be "about" the situations in which viewers find themselves. Professional content providers could not afford to make videos of bank bloopers, rude bus drivers, or comical playground incidents. In addition, telecoms' networks won't be ready to carry high production value video for several years, so UGC production quality may be suitable.

If Hollywood doesn't wake up to the opportunity within the next 2-4 years—when mobile video will be at an inflection point—they will have difficulty recovering.
Panelists
Rahul Sonnad, VP Business Development, The Platform—Rahul Sonnad co-founded thePlatform with solid experience in digital media services. He managed some of the first backend solutions for digital media delivery and commerce integration while with Microsoft's Digital Media Division's Research and Development, and later joined WindowsMedia.com developing digital media strategies. Rahul's background includes managing Asian versions of MS Office, innovating Microsoft Word tools, and engineering at Adobe Systems.
Ted Mendelsohn, Director Business Development, AP Digital—Ted Mendelsohn is responsible for expanding AP's commercial opportunities in the interactive media by identifying new markets and new revenue opportunities. Based at the news cooperative's international headquarters in New York, he has negotiated licensing arrangements with AP Digital's largest clients.
Mark Pascarella, President, Gotuit Media Corp—As one of Gotuit's founding investors, Mark has been a member of the company's Board of Directors since inception and joined Gotuit full-time in 2001. Under Pascarella's direction, Gotuit has pioneered video search / navigation and has become the leading provider of on demand video products for multiple platforms including cable, broadband and mobile.
Maha Ibrahim, General Partner, Canaan Partners—Maha Ibrahim joined Canaan's Menlo Park office in 2000 and focuses on Internet, networking and wireless investments. She is also an active speaker at wireless industry conferences. At Canaan, Maha helped to negotiate and manage a partnership between Tacit Networks and Brocade, and established Canaan as the first investor in Blue Frog Mobile, one of the largest US-based direct-to-consumer mobile content companies. Prior to joining Canaan, Maha held numerous roles at Qwest Communications including Vice President of Business Development and Vice President of eBusiness and Internet Operations. While at Qwest she was instrumental in forging the company's relationships with Netscape and Microsoft as well as several other private Internet companies.
Moderator:Antonette Goroch, Senior Analyst, Digital Tech Consulting—Goroch has been an analyst and executive in the media industry for over 10 years, covering areas including cable, digital satellite, consumer electronics, Internet, IPTV, digital video and music. She has authored expert analyses focusing on digital media entertainment and technology, and her work has appeared in The New York Times, The Wall Street Journal, Broadband Week, Satellite Communications and Broadcasting & Cable.
Customer Experience: The Three Screens
The first screen is TV, and several generations of viewing have set strong precedents. Most viewers of TV content are passive. This has reached such a point that many "viewers" do not watch TV; they just have it on in the background, and they often do other things.
The computer monitor is the second screen. Here, people are far more active. The computer first assumed a work context, but entertainment has increasingly grown, so that the second screen has a balance of work and entertainment today. People are interactive at the computer. People increasingly watch entertainment at the computer, but TV is the ultimate "watching" context.
The mobile experience is emerging. It is more driven by impulse, and mobile entertainment happens when people are in-between doing other things, when they are commuting or waiting for something.
Adoption Factors
Currently, each of the three screens has different content creators and distributors, and this serves to keep each in its own channel.
Customers will insist on convergence, but it will happen gradually due to technology constraints and the lack of business models.
Mobile (the third screen) is slow, and picture quality is poor, and this will prevent content sharing with the other two screens in the near- to medium-term.
The broadcast model will not work for mobile: neither its content, nor its business models.
The customer base for mobile video is broad, but myriad providers and business models prevent adoption. Mobile has to have a YouTube offering.
The mobile video value chain is complex; on the Internet (second screen), ad models work, as well as search and recommendations (like amazon.com).
There isn't yet a business model for user-generated content (UGC).
There was a consensus that advertising-sponsored free content for mobile would have a limited appeal; both content and advertising would have to be carefully targeted in order to avoid annoying customers.
Content Protection
Video content incorporates film and audio, and each has potentially numerous content owners.
YouTube content is unprotected, but it is monetized, so that makes it acceptable to many industry executives. However, everyone is painfully aware that the misuse of content is growing, and the lack of control is too obvious.
For many situations, enabling consumers to stream content (without downloading) is sufficient protection (however, there will always be people who find workarounds and share). Digital fingerprinting and embedded players are other tools. YouTube is developing its system to detect unauthorized content and may innovate for the industry.
Apple is a heavyweight with its proprietary system, Fairplay. They are trying to take advantage of the content protection problem to further their own business model. Apple has a lot of influence right now.
Standards bodies must play a key role; however, there is no imminent solution. No one has enough power to enforce content protection; Apple probably has the most influence currently. The lack of standards adds significant cost to content.
The goal is to make it inconvenient enough to prevent most people from abusing it while not detracting from user experience.
Content owners have a clear risk/reward: if content is too protected, they lose exposure; if it's too loose, they suffer brand compromises.
Business Models for Mobile Video
Two models to start with: pay for content and free content supported by advertising. People subscribe to cable (first screen) and numerous Internet (second screen) offers; why not the third screen?
A key challenge is that there are many value chain players, and each must be paid, which makes content more expensive. Video content owners want their pound of flesh, and this stifles innovation. The mold must be broken.
Business models are currently channel-specific, and that's a problem (i.e. TV, Internet and mobile). They work very differently, and this makes sharing content among channels difficult. Internet is largely free content with ad support, while TV is subscriber and ad support.
However, mobile delivery costs are going down, and this will continue and increase options in the medium term.
In 2007, mobile providers supply content via their marketing budgets; they are trying to attract new subscribers. This isn't sustainable long-term. In addition, mobile networks can't deliver extensive video content; they aren't robust enough. It's a classic case; they are trying to grow subscribers and make new infrastructure investments in alternating cycles.
Close networks (walled gardens) aren't viable long-term.
IPTV will add significant interactivity to the first screen, which will be transformed as nodes on IP (Internet Protocol) networks as IP-enabled set-top boxes diffuse into the market.
There is a significant opportunity for carriers that can deliver content to all three screens. However, consumers will be most happy when content is simpler to access. It has to just work. The "connected home" is quite a long way from reality.
UGC thrives best when it is shared within a community. Threadless is a useful example.
WAP with short codes offers interesting possibilities.
Mobile TV is growing fast in Italy and Korea, where the infrastructure is more robust than in the U.S. However, many people in those markets are more oriented to mobiles than computers, the opposite of the U.S.
Pay for content is too expensive for mobile. Using ringtones as an example, out of every dollar sold, the content owner gets 40 cents, the carrier 30 cents. The aggregator and the delivery company must split the crumbs. It's very difficult to make money on ringtones; some have had success with subscriptions.
Analysis and Conclusions
Mobile video is clearly an emerging market, and value chain players see as many difficulties as opportunities. Many people will try to exploit it, but to succeed, players will have to understand the delivery realities of mobile in the U.S., where it is far weaker than Europe or Asia.
Existing value chain players do face technology and business constraints, but their greatest limitation is their lack of imagination. They want to push high-production video content to mobile. They see mobile as another consumption opportunity, but they are missing the point.
UGC does have a business model. Look at Threadless: community members create designs and vote on them, and winners are honored by having their designs used on clothing. YouTube for mobile could be viable; imagine a mobile site that features "goofy commuting videos" that are ranked by other users, and winners get recognized by the community and prizes. Mobile phones increasingly have video creation and playback capabilities.
Existing value chain players don't see UGC models because they don't see how they can make money by reusing existing content. They are focused on themselves, not customers.
UGC might be ideal for mobile's limited quality and infrastructure because of its low production value. However, the context would be perfect: the site asks users to create content for each other.
Video content poses significant copyright issues. This is becoming an increasing problem because the Zeitgeist is mashing things up. DJs mash up music, blogs mash up writing, digital illustrations mash up other illustrations.
"Brand compromises": content owners need to rethink "brand experience." Being open and embracing collaboration will trump controlled brand experience in many situations, but most marketers do not understand that.
Value chain players: look at music: it costs $4.00 to download a song from a mobile provider, and the same song costs $0.99 on iTunes. In the U.S., it is too expensive to deliver video content via the mobile infrastructure.
Content owners will eventually have to realize that they will have to collaborate with customers to have their content discovered and shared. Many will not understand this and will become irrelevant in the long-term.