Consumer Mistrust Will Slow the Reality of Mobile Personalization Vision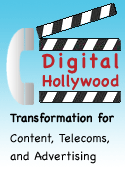 Panelists at Digital Hollywood Chicago constantly spoke about mobile as the most "personal" of the three screens—for several reasons. The phone number is individual, so all the device's activity can be attributed to a person, whose preferences and needs can be deduced from the activity. In addition, the mobile (phone) accompanies the individual almost everywhere, so it offers a wide scope of visibility into his/her activities, location and interactions.
The mobile device will soon lose the "phone" moniker because the device morphing into a portable digital hub. "Smartphones" have seen much slower adoption than hoped, but functionality, power and capability are steadily increasing while prices fall. Apple's iPhone was constantly mentioned as the promising breakthrough device.
Mobile devices will change relationships far more than the first screen (TV) or the second screen (computer) because they will touch everyone, their capabilities will rival laptops' within 2-3 years, and they are inherently social. Social networking via video sharing, Web browsing, email, SMS, IM, music sharing and voice calling is on tap in the latest smartphones. The problem is, their features are so difficult to access that 90% of them are not used. The iPhone, leveraging Apple's legendary design and software prowess, may blaze the trail.

There are myriad server-side offerings that enable people to connect and communicate with their mobiles. Think of Amazon.com's collaborative filtering (based on what I buy, Amazon can suggest things to me based on what others buy) as well as deep, real-time data mining and social network software that assist people across all modes of communication. Moreover, mobile increases the power of the collaborative filtering idea by triangulating IP (Internet protocol), geography, time (when calls are placed, Web sites browsed, financial transactions executed, coupons redeemed) to provide the ultimate insight into what consumers are doing (and therefore what they may want to do). In theory, providers can gather and use this information to help individuals connect with each other, and they can use it to help advertisers to understand consumers and ostensibly to serve them relevant and helpful messages.
Panelists
Collin Bruce, Director of Marketing, Hitachi Embedded Business Group—director of marketing with the Embedded Business Group of Hitachi America Ltd., leads the company's marketing efforts for the Hitachi Entier embedded database product in North America.
Scott Driggers, CEO and co-founder, Gemini Mobile—With deep connections into the global wireless industry, Scott Driggers excels at building and growing international teams. Driggers has been instrumental in guiding the development of Gemini Mobile's Japan, U.S. and China operations and customer base. Prior to Gemini, Driggers was based in Japan for Vodafone AirTouch, where he held various line management positions in marketing, planning, strategy, and business development.
Dharma Kuthanur, VP Strategic Accounts, July Systems—Dharma manages strategic relationships for July Systems, a provider of integrated solutions for mobile content retailing. He has over 16 years of experience in high technology, having held senior positions in marketing, business development, software development and management consulting with Lucent Technologies and Veraz Networks, among others.
Bill Godwin, Vice President, Business Development Strategy, Zannel—Bill Godwin is responsible for creating and driving Zannel's business development strategy and establishing new partnerships with content companies and network operators. A seasoned entertainment industry executive, Godwin comes to Zannel from Warner Bros., where he managed partnerships and product launches with Verizon, Qualcomm, Sprint, Cingular, T-Mobile, Alltel, Amp'd and Rogers, among others.
Joe Sipher, Co-Founder and Chief Product and Marketing Officer, Pinger—Sipher co-founded Pinger in 2005 with the goal of creating an innovative service for voice. Before Pinger, Joe and Greg started Virgin Electronics, the consumer electronics arm of Richard Branson's Virgin Group where Joe served as SVP Marketing and Development. Joe previously served as the worldwide vice president of marketing at Handspring and before that was Palm's first and only Palm Fellow.
Stephen Venute, Vice President, Strategic Alliances, MyStrands—Venute spent 8 years at AOL, where he was responsible for directing complex global marketing alliances with some of AOL's largest and most strategic partnerships. He helped pioneer numerous successful online ROI initiatives and launched several Internet-first programs. Prior to joining AOL, Stephen spent several years with McCann-Erickson, based in Prague, the Czech Republic, where he managed a portfolio multinational and local advertising partnerships.
Moderator: Ranjan Mishra, Senior Partner, Oliver Wyman—Primarily focusing on wireless and convergence sectors, Mishra has worked extensively with senior telecom industry executives. He has established wireless carriers and new entrants such as MVNOs and ASPs. He is known for pioneering work in market-level strategy, reinventing business design for wireless players (including MVNO strategy development), and helping clients achieve higher productivity from their capital assets.
"Personal Mobile Experience" Adoption Factors
Personalization will drive value in every aspect of the mobile experience: content, features, and advertising. Personalization is organic, as it changes over time.
Mobile will morph into a kind of "Second Life" community worlds that cross boundaries with the "first life" world. People will have avatars, personalized views, built in social players and alerts for everything.
Sports will play a prominent role in connecting people due to the importance of time-based events and collective experience as well as the inherent focus on information.
Mobile is analogous to on-the-go snacking and communicating, not full meals. Experience will be governed by short attention spans.
Services will become increasingly sophisticated; they will consider activity, geographical space, time of day, response and myriad other information-based details that algorithms will hammer into preferences. They will compare these "profiles" and draw collective conclusions (akin to collaborative filtering).
"Generation Y" (born 1985-2001) prizes immediate availability and real-time response, and they often have numerous threads going—across several modes of communication. This trend will impact demand for mobile.
Carriers that invest time and resources into gathering and synthesizing the data will create significant opportunities for themselves.
Mobile devices will go through growing pains. As devices gain in capabilities, users will increasingly download/install applications to enable further customization (much as people "customize" their PCs today by installing additional software). However, customization will also bring viruses and other nuisances. Having viruses disable mobile phones will pose a significant problem for mainstream consumers, who do not relish playing technologist with their phones. This will significantly dampen the adoption of mobile software.
Mobile social networking will focus on extending existing capabilities. LBS (location-based services) will increasingly enable people to find each other based on geography. Generation Y watches TV on mobile phones, and interacting with shows will be popular with them.
Mobile operators, having to justify (and leverage) their massive infrastructure investments, stifle innovation. They are focused on amortizing infrastructure, not where the customer is going. This is a reality, especially in the U.S., where device makers do not reach customers directly, but through carriers, who subsidize devices and lock in customers.
Mobile advertising will play an important roll in bringing new elements to the mobile experience.
Analysis and Conclusions
Personalization will happen far more slowly than anyone hopes due to customers' lack of trust in providers and numerous systemic limitations of value chain players—even though personalization can be a win-win for customers and providers. The transformation of mobile will unfold slowly.
Advertisers have engendered a profound mistrust in consumers, and many panelists mentioned customers' intolerance of ads on their mobile phones.
The word "commercial" ("advert" in the UK, "la pub" in France) elicits a distasteful reaction in customers because many are inane and irrelevant.
Adoption patterns differ widely for various niches of customer groups, but most advertisers are accustomed to large segments. Their business models are predicated on reaching big numbers. This doesn't map to the emerging reality.
Sellers will have to earn trust of buyers (customers) so that they give up privacy to enable more personalization. This will be a slow process for many.
Relevance requires the seller to have some true insight into the individual with whom they are trying to communicate. Mobile offers mechanical (read "economical") data capture, digital analysis and conclusion-drawing via software.
To reflect on the opportunity for carriers, think about how Amazon.com delivers its value proposition. In effect, it offers elements of social networking via reviews and profiles and mechanical personalization via collaborative filtering. Mobile will offer a far richer data set from which to deduce customers' desires.
To work economically for carriers or other players, personalization will be mechanized. Providers will draw conclusions from digital communications and mash them up into preferences via algorithms. However, from a customer perspective, the bar will keep getting higher, and providers will have to fine-tune a bevy of inputs. That will be the art. As Stephen Venute pointed out, people and their preferences are constantly changing. It will probably be useful to consider usage profiles as life cycles.