The Challenge of Consumer/Advertising Misalignment: How to Finance Free Content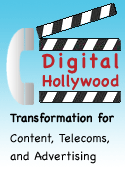 At Digital Hollywood Chicago, few disputed that broadcast TV and mass advertising's golden age had passed and that several technologies and cultural shifts were pressuring senior marketers to change. To fully appreciate this challenge, one has to consider the three screens through which most consumers experience "content. " What consumers do with the changing capabilities of each screen changes their expectations and behaviors about their experience with all three screens, dramatically increasing opportunities and threats. Interactivity is increasingly available for TV (video). Convergence among the three screens is another important thread. Younger generations of consumers have little tolerance for the concept of mass advertising.
The most rapacious symptom of the weakness of the mass broadcast advertising model is the widespread adoption of the PVR (personal video recorder), which enables (home) viewers to record TV programs—and to skip advertisements. A couple of eye-opening facts: 1) on average, TV programming contains 8.5 minutes of advertisements during each 30 minute segment of programming and 2) 70% of adverts are fast-forwarded through or eliminated. And these numbers pertain to (mostly) non-digital (analog) content; digital, with its omnipresent metadata, will undoubtedly offer more options for avoiding advertising. The model is clearly broken.

The alternative is far from clear. In much of the world, "free" content is made possible by commercial advertising, so if that model is to survive, a solution must be found. Moreover, mobile video is in its infancy, and advertising on "the Internet"—the computer being "second screen"—is still immature. The "first screen" is ailing.
The emergence of digital content is transformational due to metadata and its myriad uses. For example, data can be "aware" of how people are interacting with it, and it can inform content owners/distributors, with viewer consent. Data can be chunked and mashed up more easily (think of songs in a playlist, or chapters on a DVD). Data—and its components—are far more searchable (find chapters of DVDs, not only the whole unit). Of particular interest to advertisers is the ability to be aware of what content ("data") people are consuming, and when. They yearn to deliver targeted advertising.
Panelists
Mark Renshaw, SVP One-to-One Marketing Solutions, Arc Worldwide—Mark transferred in May 2006 to Arc Worldwide's Chicago office from Singapore, where he directed Arc's digital marketing efforts across Asia-Pacific. As SVP of one-to-one marketing solutions in the US, he will oversee teams in Chicago, New York and San Francisco as they respond to clients' increasing needs for digital marketing solutions.
Ed Forman, EVP ICTV—Ed rejoined ICTV in 2006 with the goal of combining the choice and control of the Internet with the responsiveness and video quality of television. Ed returned to the company after co-founding and serving as CEO of Switched Media, a developer of solutions for mass customization of live video streams that merged with ICTV.
Juli Black, Central Region Sales, Tivo—Juli has been on the cutting edge of technology, marketing and advertising for over a decade. In the early to mid 1990s, GPS was an emerging technology in the civilian marketplace, and Juli managed marketing and sales efforts in several wireless and GPS ventures.
Tom Rosenstein, VP Business Development, SeaChange International—SeaChange provides digital video systems that are changing television. Its powerful server and software systems enable television operators to provide new on-demand services and to gain greater efficiencies in advertising and content delivery. With its Emmy-winning MediaCluster technology, SeaChange has thousands of systems that are helping broadband, broadcast and satellite television companies to streamline operations, expand services and increase revenues.
Brian August, SVP Corporate Development, TitanTV—Brian August serves as Senior Vice President of Business Affairs and General Counsel for Titan TV. Most recently, August served as a digital media attorney in NBC Universal's corporate transactions group. Prior to that, he was Senior Vice President for Legal Affairs and Corporate Secretary at Send Word Now. August is responsible for building the relationships and brokering the deals with major broadcast groups and television affiliates needed to bring TitanTV Media's vision for a web-based TV network to life.
Jeffrey A. Dachis, CEO & Senior Partner at Bond Art and Science—Jeff is the CEO and a Senior Partner at Bond Art and Science, an interaction design firm that specializes in cross platform information systems. Bond's strategy, design and technology capabilities focus on simplifying complex interactions. Bond was founded in 2006 by five veterans of the digital interactive industry. Bond is made up of colleagues from Razorfish, with deep expertise in web strategy, technology, interaction design, visual design, and systems development.
Moderator: Terry S. Bienstock, CEO, MobilActive—former EVP & General Counsel, Comcast Cable: Terry Bienstock is currently CEO of World Extend, LLC. a New Jersey-based distributor of managed application publishing and secure remote access solutions for business and consumer markets. WorldExtend has revolutionary products to deliver to a business a low cost software-based VPN, and has developed a virtual computer on a TV set to bridge the Digital Divide. He also manages and advises other ventures relating to new media platforms, such as Video-on-Demand, digital video recorders, broadband and mobile services.
Symptoms of Advertising's Malaise
The majority of ads are being skipped, which undermines advertising. The advertising ecosystem monetizes the universe of free content. It is a tectonic shift.
Advertisers need to "buy the individual," not the station. They have depended on network stations to "know" their geographical audiences and determine advertising mix, but this does not work as well as it once did (the mass market is splintering).
Advertisers have been experimenting with making shorter ads that are less likely to be skipped, and placing the ads in different places. Cox is offering VOD (video on demand) after ads have been viewed.
Agencies have experimented with one second and five second advertisements.
Will brands begin to create content instead of advertisements? Thus far, the single-sponsor model has been a failure.
VOD is four times the normal CPM in hyperlocal markets (presumably because the viewer must "order" it, thereby issuing a trackable action; in broadcast, people accept programming, but operators or advertisers do not know if they are really watching).
Advertisers are also experimenting with paying people to watch adverts.
Everyone is somewhere all the time; location is a powerful context for advertising, and it is trackable. The geographical dimension can increase relevance of advertising, but people must give permission to be tracked.
Direct response is a powerful way to understand consumers and increase relevance.
Infrastructure Constraints
The operators' infrastructure significantly limits what advertisers can do. It is a "dumb pipe" that is largely unable to capture interaction; it delivers content. Most old STBs (set-top boxes) are likewise unable to capture what content is being watched. New STBs have greater capabilities.
STB manufacturers want to retain the walled garden. Many STBs do not interface easily with home networks. Manufacturers want to understand what viewers are doing because advertisers pay well for this information. Viewers, however, have other ideas. They want to control their content, move it around and view it when and how they want.
The television advertising-content-distribution ecosystem prevents innovation because it is so inflexible and constrained. Content is immobile due to licensing restrictions (rights to music, scripts, video, etc. are all separate). Television produces far more content than any other source, yet very little is reused (other than reruns).
Operators and advertisers are constrained by their antiquated billing processes. They are designed to bill for subscription services. On demand will require many more granular billing capabilities.
Disruptive Developments
Tivo revolutionized the first screen by enabling consumers to record programs, delete adverts and have much more control over viewing. It also was one of the first DVRs to capture viewing data. Tivo is paid extra when viewers record advertisements.
TV, with Tivo or not, remains entertainment-focused and engenders passive behavior. It is difficult to encourage interactivity with television viewers. This will be difficult to change.
However, some (younger) viewers multitask, searching for information related to programs, IMing their friends or gaming. This can cloud the picture for advertisers, but it offers new opportunities, too. The picture is becoming more complex.
User-generated advertisements are a potential disruptive force. Major advertisers are experimenting with letting consumers mash up segments of ad content, and many are holding advertising contests. Superbowl 2007 featured two consumer-created ads.
Will television advertising adopt a Google model (in which consumers create and place ads and are paid when other consumers buy something off one of their ads)?
The impact that mobile video and advertising will have on the industry in general is uncertain. It will add to advertisers' insight into what advertisements are effective and what content people are watching, when and how. Mobile is individual, and preferences and movement can be tracked on an individual level.
The IP (Internet Protocol) world will disrupt everything because it will enable extensive calls to action and interactivity. More interactivity will enable advertisers to be more relevant.
SMS shortcodes (on signage or print adverts; when sent via SMS they generate a coupon or other offer) have potential.
Mobile will see "long form" advertising as soon as network speeds increase. It's already there in Korea and Japan.
Analysis and Conclusions
One of the most intractable problems facing advertisers was not mentioned, probably because advertising executives do not know how to deal with it: consumers' profound mistrust of advertisers. Viewers loathe advertisements, and many find them demeaning. However, a root cause is that advertisements are mass messages, and they are often designed to appeal to the lowest common denominator. If advertisers had more information about individuals' interests, they could theoretically show more relevant messages. Before they can track viewers' habits, however, they must ask permission, and mistrust will prove to be a formidable barrier to overcome.
Another challenge: every element of the advertising business is predicated on large numbers, and viewership is splintering, which is exacerbating the misalignment of advertisers and viewers. Technology enables new ad insertion techniques, but advertisers must think beyond large numbers and retool its buying processes to enable targeted niche buys. This will be extremely difficult. Clients will have to be convinced first.
Panelists' angst at the inflexibility of the television content ecosystem was palpable. They are frustrated because technology is enabling new possibilities, and viewers' expectations are changing, but they are in multiple straight jackets: legal, infrastructure cost and uncertainty. They agreed with GHCJ's suggestion that their inflexibility was analogous to the airlines'. What will prove to be their Southwest Airlines?
However, what was most interesting was what was not discussed: how to create advertising that would make people want to watch it. This idea is far more transformational than trying to target the same inventory of commercials more sharply. Advertisers have failed to create advertising that people want to watch. If 70% of commercials are rejected, one can assume that the remaining 30% are not eagerly experienced. This signifies a severe misalignment problem. It is the root cause.
Advertisers are receiving less return from their investments; the only reason they don't reduce investments is that there are few alternatives.
No one mentioned product placement as an alternative to "product/brand advertising."
When people execute purchases from the first and second screens, they provide trackable transactions. The first screen is trackable to the family but not the individual. The second screen can be more specific because computers are IP devices and they are shared less often than TVs, but the third screen (mobile) is most specific since most people do not share mobile devices.