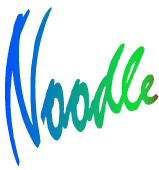 Tablets Won't Save Mainstream Media But ProAm Might reveals how mainstream news organizations can jujitsu their way to new vibrancy—embracing substitutes.
Thanks to @guykawasaki, I happened across a robust discussion about whether new hardware formats like the iPad can "save" mainstream media. The article covered some comments from Google economist and Valley stalwart Hal Varian, and it precipitated a great discussion. Here are some back-of-the-envelope thoughts and strategies I would strongly consider were I to be leading or advising a "publishing" organization through twenty-first century waters.
I doubt that the hardware interface—such as Apple's imminent iPad, broadly a "tablet" computer—will make any measurable difference in newspapers' viability. I think that @timothywmurray and @jordanbecket get to the heart of the matter. Murray points out that news organizations use too many "anonymous" sources and are steadily losing cred while Becket reminds us that most news organizations only produce 20% of the content they publish: they pull the rest from wire services. Talk about a twenty-first century #fail!
Let's abstract away from organization and society a moment. What is the marginal value of a college grad working for an editor who decides "what is news"? Frighteningly little, which our eyeballs are disclosing every day. "Newspapers" (and soon, radio and television) that thrive will do two things: they will shift a large part of their "content" to a ProAm model (ohmynews*), and reporters will act like bloggers. Before you grab your shotgun, let's look at this a second:
ProAms combine the core competencies of all of us amateurs (source and give raw information) with professionals (editors). In effect, the organization crowdsources a large portion of the sourcing and raw production of news. Professionals will refine and analyze the "news" that we collect. The crowd and the "news org" can vet individuals' stories, and individuals' stature will emerge from that. Let's not also forget, individual people have individual followings with whom they will share their articles.
Many traditionalist thinkers deplore the idea that people with iPhones can create next and photos and upload them instantly from anywhere. Soon to come: rich media.
Everyone will have video (and audio) in their pockets. This is a done deal, so news organizations need to build a large part of their go-to-market on it; it's the new infrastructure.
Ask yourself: how can we (media) make this work for us? Create online courses to help people create better quality that you can use (no cost to you, except create a space in which they want to share). Give them guidelines. No one is saying that "quality" is the same, but people are voting with their eyeballs: the marginal value of the "professional-only" article is frighteningly thin in many contexts. By the way, an increasing portion of people get their news as links from friends, so what happened to music has happened to news (out, professionally curated playlists called "albums"—in, friend-curated playlists). News needs to focus on curating and adding analytical value.
Bloggers are individually accountable for what they write. As @jordanbecket points out, "news" sources are veiled, and reporters too often held back. Many reactionary people hate "bloggers" because the latter are too free-wheeling. They overlook that accountability = readability, cred. You may hate what someone says, but you usually know where the person's coming from. Newspapers will become more like groups of bloggers with certain rules around them. Yes, based on ratings (news orgs' own and the crowd's), they can give writers different levels of visibility and reach, and make that completely transparent.
The main problem for "news" orgs is they haven't understood that information is free now: however, analysis, synthesis and organization are not.
They need to focus on a viable value proposition. People are tired of stilted "All the news that's fit to print" arrogance. How preposterous today! However, that tagline rocked in the 19th and (most of) 20th centuries when information was relatively scarce and means of production were centralized.
Were I to advise management of legacy media, I would ask them to consider this, from L. Gordon Crovitz, whom I had the pleasure of meeting a couple years ago:
The WSJ succeeded in charging for content because its content was traditionally part of their readers' workstreams. When your livelihood depends on something, you pay. Most "news" and media entertains, it has little financial impact. Therefore, focus on niche stakeholders who will pay for content and mix with a ProAm model to diminish costs and extend the brand.
Over the next few years, "media" titles who don't get these seismic changes will disappear, but there is a rich playground for others to tinker and synthesize these models.
Also see: Tombstones and Milestones
__________
*BTW, although Ohmynews didn't succeed long-term as a business, that doesn't mean the model was wrong, and that you couldn't do it right.