Web 3.0 and Social Business—2011 Predictions and Recommendations describes a turning point, away from social media to social business. SocialTech Grows Up—Relationship the Foundation of Business Success—Digital Clodhoppers Become Sore Thumbs.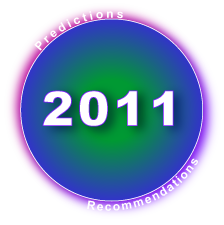 2011 will mark a turning point in the adoption of digital social technologies because the experimentation phase is drawing to a close, and stakeholder expectations are increasing. Organizations and people will no longer gain attention by executing badly. At the enterprise level, participation will wane in venues and initiatives that have no business strategy, focus, content strategy and commitment. Paying inexperienced people or agencies to "share" snappy content will expose brands as digital clodhoppers and push customers away. Individuals will also have to improve their game and focus on the most relevant people in their networks. Stop sending default invitations on LinkedIn. Proactively support people whom you respect and trust the most. The theme is determining and executing on strategy, focus and commitment.
In 2011, the bar to attract and hold attention will be higher, which will present organizations with a new threat: when participation falls, some executives will conclude that "social media" was only hype anyway, and they will curtail investments. This reaction will create opportunity for people who understand what works and why. At the same time, stakeholders are more savvy and responsive when you show sincere interest in them, which will result in stronger relationships and business results when your interactions are based on a sound strategy.
In 2011, there will be few opportunities to make any impact by using a casual approach, so our focus here is to lay out predictions that will form the context for this year's opportunities and threats relative to social business. From there, I'll build my 2011 recommendations for enterprises and individual executives. By the way, this follows the Year in Review—2010/Initial Glimmers of Social Business.
2011 Predictions
2011 Recommendations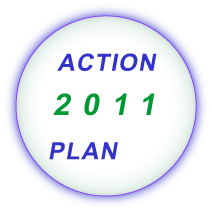 My 2011 recommendations for enterprises and executives echo last year's. With respect to adoption of social technologies, we are very much on the trajectory I described in 2006, 2007, 2008, 2009 and 2010; however, there are more facts and details about how to realize the vision, some of which I will share to help you get more clarity on how to use the insights to improve your competitiveness.
Enterprise
Get to know your ecosystem and how you can interact with it most effectively. This sounds elementary, but I have yet to meet an organization that knows its stakeholders' preferred venues, workstreams and networks in sufficient breadth and depth from which to create sound strategy. Millions of conversations are taking place in an ecosystem around you, and you need to understand what digital venues are most influential. You also have to look at your organization, honestly, and develop a vision for what value you can bring to these conversations and venues (hint, it's probably not your products and services). You need concrete answers for:

What are stakeholders (customers, investors, regulators, employees, partners, alumni…) doing in digital social venues?
Why are they there, what are they trying to do?
Which venues do they use, how do they use each venue and why?
How are they engaging with each other, competitors and other players in these venues?
Based on your culture, core competencies and business goals, what do you have to give your ecosystem that is valuable and unusual? (this gives you authority)
Only when you know this will you be able to engage efficiently and effectively; most organizations are ineffective because they shoot from the hip and just talk.

Develop resident skills with digital social technologies, processes and behaviors. This is a strategic imperative because stakeholders will increasingly expect you to interact how they want to interact. Social technologies moved the cheese of one of my clients, who sends reams of paper and digital newsletters to customers. But Gen Y respondents told us flat out, "If you're not on Facebook on the iPhone, we won't talk." If you want to be available, you have to go to where stakeholders are. And don't assume it's Facebook or Twitter: B2B companies are especially in the dark about where their customers are online. Keep in mind, social venues are all about social behavior, not technology that you can buy and put in place; your people will need time to learn how to act, and that's a process you need to pursue urgently.

Blogging is about what you think and creating a network around yourself, not about selling. Leave the latter for your website. No matter what your business is, you have to share your thoughts online. Energize your network by engaging relevant bloggers by commenting on their blogs. Most blogs should comment more than they post.
Experiment with geosocial pilots; you need to understand Web 3.0 and how your stakeholders can use mobile technology and social actions to create value for themselves. Why shouldn't you position yourself as a leader in helping them?
Gaming doesn't mean what most execs assume—spending zombiesque hours in front of some console. Everybody likes to play (golf, day trading, bridge), in business and social contexts, and it's a fantastic motivator. It will become the new work, so you can create fantastic advantage for yourself by understanding this earlier rather than later.
Contribute to online forums frequented by stakeholders. This might be LinkedIn Answers, industry forums, prominent blogs, trade journal or mainstream media comments, wherever stakeholders are asking questions and solving problems.
Deploy social business infrastructure internally to drive skill development and increase productivity; kick off pilots in which teams use wikis, blogs, microblogging, social bookmarking and rich media.

Assign a top executive to manage your adoption of social business because changing stakeholders' expectations will change your business. Your only choice is how do you want to participate: if you don't get involved and lead, others will set the table for you—to their advantage.

Develop a social business strategy to articulate your approach by considering risks, rewards and business strategy. It lays out goals, timelines and resource requirements; metrics and measurements. Your availability to interact with stakeholders will increasingly drive your brand value because they will expect you to be present, appropriate and sincere. Your company, employees and proxies need to learn how to do that. It's hard work, so the earlier you get started…
The strategy will enable you to create a strategic dialog among management; in 2011 and 2012, executives are going to be doing remediation because social projects are happening all over the enterprise, in some cases counteracting each other. I'm not advocating centralization and controlling message, but having goals and meeting them collaboratively will significantly increase returns.
Hold focused conversations within the organization and with partners and people outside. You need an adoption approach that considers the spectrum of risks and focuses your efforts on rewards that move your business strategy.
This executive should have experience leading innovation initiatives that break rules and ruffle feathers. S/He should also be open to personally embracing social practices (i.e. blogging, tweeting, interacting online).

Create and maintain a relationship-centric ethos for your social initiatives. During the Industrial Economy, all of us forfeited our humanity to serve the machine, which created unprecedented value. Digital social technologies are enabling us to create and scale our human communications, which will "humanize the enterprise." Your organization can get in front of this, so you are leading, not complying after the fact. See the Social Network Life Cycle Model and the Relationship Life Cycle for more on this.
Individual
Start blogging. There, I said it once more. It's the easiest way to differentiate yourself. Two of my largest clients last year came through people finding my blog posts and videos online. Here is my free Quick Launch Guide to get on in about an hour.
Don't treat LinkedIn as a website, but as an engagement platform. People go to LinkedIn when they are looking for expertise, but "content" engages far less than interaction. You can pay for content, but your attention is priceless. On LinkedIn, this means:

Participating in LinkedIn Answers: answer others' questions and ask questions; this attracts attention
Focusing on highly targeted Groups: interact there regularly; commit to 2-3 groups
Using Polls to have fun and attract attention to issues relevant to you and people you want to engage
Putting your slides on your profile via LinkedIn's Slideshare app
Invoking your blog posts from your profile with the WordPress or BlogLink Apps
Are you courting clients on other continents? Recreate your profile in other languages.

Start tweeting. Twitter is a new mode of communication that you need to understand because it is transforming communication and creating new kinds of relationships. See Twitter: Key Disruptive Innovation of the Decade.
Cut back on unproductive networking. Don't fall into networking as an activity trap. If you drive half an hour to an event and spend 3 hours there, that's half a day. You could have written six blog posts and answered four LinkedIn questions. When you have a content strategy for your blog, it creates digital breadcrumbs that are always working for you. If you choose the LinkedIn questions you answer judiciously, people will discover them at any time. At face-to-face networking events, the value dissipates much more quickly. I'm not saying to reduce face-to-face significantly, but cutting back on two events per month will give you more than enough time to ramp up online, where the leverage is far greater. Optimize.
Relentlessly conduct yourself so that you increase trust with people who count. Make introductions, answer questions, give help, ask for help, follow through on what you promise. In digital social environments, other people are observing our interactions. We can choose to be creeped out by that, or use it to our advantage. When you are authentic and help people, other people see. Huge leverage.
Experiment with video. If you have a family member or friend who has some video skills, make a couple short videos of yourself talking about something your stakeholders are worried or excited about. Start by creating two or three slides, talking through them and recording a voiceover. Stand up and present it. Then go for the video. It's forever. Don't neglect keywords and tags when you post to YouTube. Ask around, it's not rocket science.
Get on Foursquare, Facebook Places or another geosocial app. You need to understand Web 3.0, and it doesn't take much time. Don't let it happen to you.
Carpe diem!