How Social Tagging Changes the Economics of Ecommerce was a geeky session that explained how a potent mix of "people like me" navigation and digital leverage can drive sales and profits + The secret to emerging markets?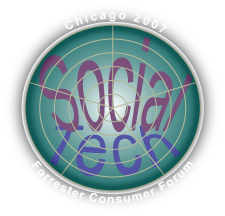 The Global Human Capital Journal's coverage of the Forrester Consumer Forum 2007 continues with this session on social tagging. Before your eyes glaze over, bear with me and learn how this simple, revolutionary social technology can help your customers to help your business. Forrester's Sarah Rotman Epps moderated a discussion with Brian Rosenblat, Online Retail Industry Lead, Endeca Technologies and Jay Shaffer, Vice President Marketing, PowerReviews, who represented companies that offer social tagging solutions, and they all shared numerous examples.
This was one of the most "actionable opportunity" sessions of the conference: tagging is a relatively unknown, simple, yet transformational Web 2.0 phenomenon that will gain traction in 2008 and explode in 2009. If you aren't doing it, you will be at a significant disadvantage to your competitors who do.
The Global Human Capital Journal published the overall conference […]