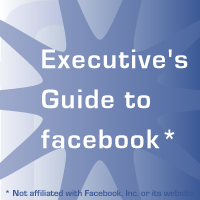 The baby is born!.. After struggling to get the last member of the triad out of the gate, we're finally here. In 2009, have been working with executives around the US to use Facebook for their businesses and personally, and the Executive's Guide to Facebook will share vital information to help you understand it and create business value. In 2010, expect to see:
Practical guides for using Facebook for business Strategic, breakthrough insights for using Facebook to create better business relationships more quickly How to launch and use Facebook Pages, Groups and other features Strategy and tactics for using Facebook advertising Analyses of misleading media coverage of Facebook Select coverage of Facebook as a company
I invite you to respond in comments with items on your wishlist!